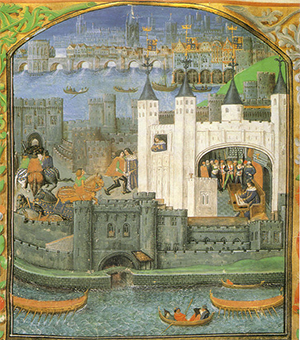 Though the main royal residence of the medieval Kings of England was always their palace at Westminster, the Tower of London was from the time of its construction by William I an alternative royal residence and particularly a refuge for them in times of crisis. It is known that the oldest part of the castle, the White Tower, was begun after 1077 and completed by 1097. The notice 'Begun circa 1080', formerly displayed outside the Tower, has now been removed; and 1078 has been accepted as the year of its beginning. If a year is wanted to mark this, it is probably as good a guess as any.
It seems almost certain that this stone tower-keep, which was to give its name to the whole castle, was erected on the site of the first Norman fortress, possibly of wood, established by William I immediately after the Conquest in the south-eastern corner of the old Roman wall around London. According to the Registrum Roffense, the architect of the White Tower was Gundulf, a monk from Bee, then just appointed Bishop of Rochester.
For its construction he imported his favourite pale stone from the quarries of Caen; and either this or the fact that it was at one time whitewashed outside may be responsible for its name. It remains much as it did in Norman times, with the exception of its window openings which were enlarged in the late seventeenth and early eighteenth century.