---
Lady Margaret Beaufort
Widowed at the age of thirteen, three months before the birth of her only child, the devout mother of Henry VII showed herself a master of political intrigue.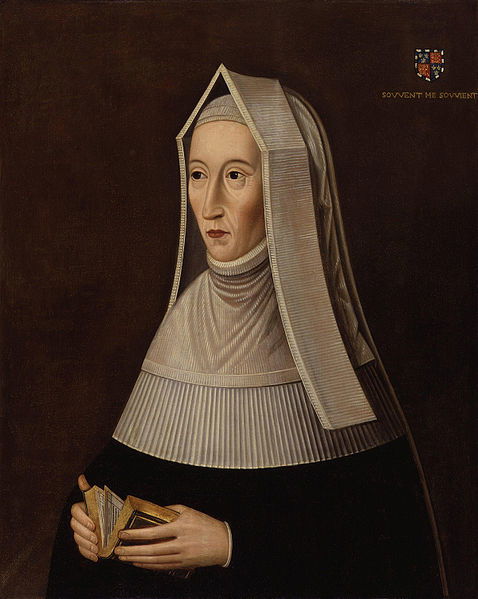 The foundation of the Tudor dynasty in 1485 reflected both the abilities and the good fortune of the new monarch, Henry VII. Henry's success without doubt owed much to the remarkable determination of his mother, Lady Margaret Beaufort, who had helped arrange his prospective match with Elizabeth of York, sent him money and organised part of the 1483 rebellion. During the new reign Margaret had considerable influence with the King. The personnel of their councils and households often overlapped and it was a measure of Henry's trust that he allowed her to retain servants on his behalf and delegated judicial cases to her. Mother and son maintained a close and affectionate relationship, glimpsed in the intimacy of their few surviving letters to each other. Yet what exactly was the role of Lady Margaret in the early Tudor period?
The surviving portrait evidence stands as testament to her considerable religious and educational patronage. Her garb is usually conventual, black with a white coif, and she is presented kneeling at or holding a book of devotions. The mood is consonant with the reaffirmation of her vow of chastity made before John Fisher, and her daily spiritual observances movingly recorded in the 'mournynge remembraunce' which he preached at her month's mind in July 1509.
---
Source URL: https://www.historytoday.com/archive/lady-margaret-beaufort