Obituary: Jacques Le Goff
The medievalist Jacques Le Goff was inspired by the work of his uncle and fellow historian, Marc Bloch.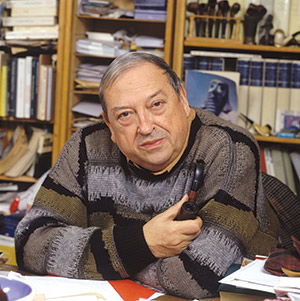 Two great French historians have shaped our vision of the Middle Ages over the 20th century: Marc Bloch (1886-1944) and Jacques Le Goff, who died on April 1st at the age of 90.
Each of these intellectuals was marked by Europe's 20th century wars. Bloch fought in the First and wrote memorably about it in his Strange Defeat: A Statement of Evidence Written of 1940. He joined the Resistance during the Second and met his end in torture at the hands of the German occupiers. As a teenager Le Goff supported his uncle's opposition to the Vichy regime. His visits to Poland and Czechoslovakia in the 1950s, in the midst of the Cold War, developed in Le Goff a deep commitment to European unity. Both men were inspired by their understanding of the Middle Ages to reflect on the shared experiences and values of Europeans: the rhythms of agrarian life, the fear of disease and need, the impact of famine and the tragedies of war. In 1929 Bloch helped found Europe's visionary new history journal, Annales d'histoire économique et sociale, better known simply as Annales, launching a whole new way of making history, which eventually embraced historians all over the world.
Bloch was an inspired historian of the countryside, who delighted in the variety and inventiveness of agrarian work; he studied France and England above all. Bloch's French Rural Society (1931) and Feudal Society (1939) are still fresh and perceptive works and they launched a whole new way of perceiving medieval society, inspired by sociology and anthropology. And if Bloch gave us the medieval countryside of lordship, serfdom and community, Jacques Le Goff did the same for medieval cities.
In an interview Le Goff once described how he became so enamoured with cities: in the Resistance he witnessed the courage of young workers from towns and cities risking their lives, while peasants cycled across the countryside with sides of ham ready for the black market. This romantic impression inspired a timely and exciting project: medieval cities as hubs of intellectual engagement, of innovative thought and of diversity. His earliest books – Merchants and Bankers of the Middle Ages (1956) and Intellectuals in the Middle Ages (1957) – saw the city as a centre of creativity, where new ideas could be explored more freely than in the cloister or the palace. The latter book, in particular, was embraced by intellectuals in Eastern Europe. Later books, such as The Birth of Purgatory (1981), situated central concepts in medieval religion within milieus of urban discussion and debate: cathedral schools and, later, universities. Even his 1996 biography of Louis IX – St Louis – seems to have delighted most in the royal capital city that Louis enhanced and adorned, not least by building the Sainte-Chapelle.
Le Goff seems to have presaged so many of the new ways of making history: exploring religious cultures, paying attention to the period's fantasies and fears, reflecting on time and sound. Above all, he inspired as a teacher, communicator and writer. He often cited Bloch, saying that the historian is something of an ogre, a monster who feeds on human flesh. Le Goff was just such a voracious historian, a gentle and generous giant.