Unveiling Amelia Edwards, Egyptologist
Celebrating the life of Amelia Edwards, founder of the Egypt Exploration Society.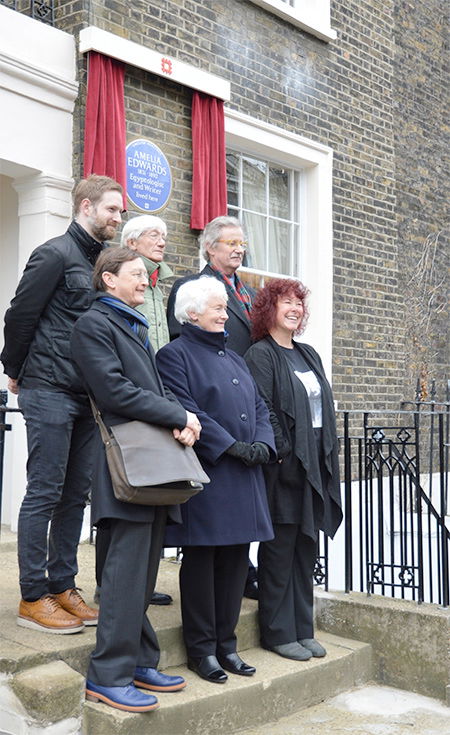 L-R: Dr Chris Naunton, (Director of the Egypt Exploration Society), Prof Geoffrey Martin, Prof Sir Christopher Frayling (English Heritage),Chis Elliott, Dr Margaret Mountford, Prof Joann Fletcher.
The biting cold of a March morning did little to dissuade fans of Amelia Edwards, founder of the Egypt Exploration Society, from turning out in force to watch the unveiling of her blue plaque at 19 Wharton Street in London this week. Edwards joins a small list of women writers including Elizabeth Gaskell, Mary Shelley and Agatha Christie, chosen to be celebrated by the scheme as its first female Egyptologist.
English Heritage, represented at the event by Professor Sir Christopher Frayling, together with Islington Council, agreed to acknowledge the unique life of Miss Edwards, who – after a celebrated career as a Victorian novelist – set up the Egypt Exploration Fund (as the society was then known) to protect the ancient monuments of Egypt in 1882.
Edwards published A Thousand Miles Up the Nile, an account of her six week journey through Egypt on board a dahabiyeh – an Egyptian houseboat – from Cairo to Abu Simnel, in 1877. She had watched with horror while temples and tombs had been damaged by other European tourists and locals, who had little regard for the history surrounding them. The book was intended as a call to arms to persuade the literary and cultural elite of Britain to support archeologists in Egypt, and help to preserve the ancient culture for future generations.
The work of destruction, meanwhile, goes on apace. There is no one to prevent it; there is no one to discourage it.
Her call was answered and the newly formed EES sent a new breed of scientific archaeologists, among them Flinders Petrie and Howard Carter, into the field to record what they found. The Society continues in this vein today, not only supporting investigations at over 20 archaeological sites in Egypt, but also by running a scholarship scheme enabling Egyptian students to visit the UK to access the archives and museums held here.
The plaque itself was unveiled by EES trustee, Dr Margaret Manford, and Professor Joann Fletcher, University of York, delivered a moving speech on the importance of Edwards, not only to Egyptology, but also as a remarkable 19th-century woman.
Fern Riddell is contributing editor at History Today.