Native North America's Hidden Musical History
Understanding aboriginal history through rare and largely unheard music.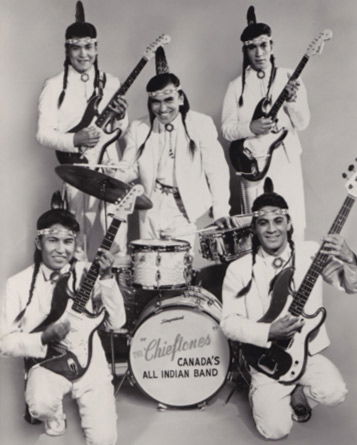 Native North America (Vol. 1): Aboriginal Folk, Rock, and Country 1966–1985 is a 34-song anthology released in November by Light in the Attic Records, the Seattle-based label possibly best known in recent years for their Lee Hazlewood reissues.
The first volume in what will be a series dedicated to unearthing rare and largely unheard music by native American, Canadian and Mexican artists, it is compiled by 'record archaeologist and curator' Kevin "Sipreano" Howes, who introduces the project in his extensive liner notes thus:
Beginning in the 1960s and well into the 1980s, a movement of Aboriginal musicians, artists, writers, and poets from across North America crafted a new blend of music: folk, country, rock, pop, blues, jazz, and classical, all reflected through their distinct cultural heritages. Despite the near-extinct nature of these recordings, it's time they take their rightful place in our collective history.
Hidden histories, of course, are many, and all attempts to reveal them are to be revered. Howes spent 15 years searching record shops across Canada and the northern United States for rare vinyl to effectively excavate this music. The issue he raises regarding 'collective history', and particularly pop history, is pertinent, not least because the way in which it is created (and those who are its 'gatekeepers') is currently in flux.
Howes, and those involved with compiling the anthology, are keen to see the artists included 'take their place' within pop history, providing comparisons or, more accurately, reference points, to their better-known contemporaries, Neil Young and Leonard Cohen among them. This is not an unreasonable nor unattainable aim. Métis songwriter Willie Dunn's I Pity the Country sounds cut from the same cloth as his Canadian compatriot Gordon Lightfoot's 1971 hit If You Could Read My Mind. Among the anthology's most exciting discoveries is the Inuit band Sugluk, whose garage rock is superficially comparable to the 13th Floor Elevators. Today, Sugluk would likely find a cult audience online (and still might), but in the mid-1970s they failed to make an impact beyond their native Artic circle. Cree singer-songwriter Ernest Monias was known as 'the Elvis of the north', though while his song Tormented Soul employs the same pining tone as his southern counterpart the cause of his melancholia is not affairs of the heart, but the hydroelectric mega project that threatened his local Manitoba community.
While it is not hard to imagine much of the material collected on Native North America finding a global audience, that is due in no small part to the ubiquity of English as choice of language and the adoption of mainstream musical styles, predominantly country. There's a simple rationale for that, says Joy Porter, Professor of Indigenous History at the University of Hull: 'If you are a colonised people for 400 years of course the coloniser's culture will become part of yours'.
For all the ease with which these songs might slot in to the history of music 'as we know it', it is worth noting what marks Native North America as a distinct and rich source for the cultural historian. Popular music is tied to expression and statements of identity and is an agent of mass communication par excellence. It's arguable that there are few better methods of encouraging the integration of aboriginal history into the grand scheme of American culture than through a dissemination of these, its most accessible, direct and easily shared cultural artifacts. Light in the Attic describe the anthology as the most 'ambitious and historically significant' project in its 12 year history, providing context to the music in the (essential) liner notes with a list of historical events against which much of it was produced:
The White and Red Papers; Wounded Knee; Vietnam; the Red Power, civil rights, and women's movements; the Jeannette Corbiere Lavell and Yvonne Bedard cases; the James Bay hydroelectric project; the James Bay and Northern Quebec Agreement; and the Native fishing-related police raids at Restigouche.
Expressions of aboriginal experience – defined broadly by poverty, discrimination, unemployment, land loss, a high rate of incarceration and the threat of cultural obliteration – appear frequently across the assembled records; the later is confronted in Gordon Dick's Siwash Rock from 1973:
I dreamt I was in a rock group
Playing on a Saturday night
Our name wasn't like the Beatles
But I found an old Indian name: Siwash Rock
We tend to think of pop music – in the 1960s and 1970s especially – as something of a harbinger of change, a medium where youth might break with tradition. This, says Joy Porter, is an obsession of the West, and is not necessarily an identifiable trait in native communities. 'AIM [American Indian Movement, founded 1968] did cause major dissent which still simmers today', Porter says:
There has always been conflict between 'Traditionalists' and 'Progressives' that extends back to the 1867 Dawes Act and even before to the treaty era when 'Progressive' Indians were recognised by the American government so they could sign away Indian lands in fraudulent treaties. Tradition, though, is very flexible within most native communities; it tends to bend not break. There wasn't the same student-led angst – these were and are communities suffering poverty.
Limited success, which many artists on the anthology have in common (the result of a lack of media coverage and limited communication channels) was, however, not shared by all. The anthology's standout highlight is I Shouldn't Have Did What I Done (1966), the sole track by The Chieftones, a group from British Columbia dubbed 'Canada's All Indian Band' by their enterprising manager. The Chieftones (the name presumably a play on the hugely successful traditional Irish band The Chieftains) achieved 'great success in the cutthroat music business', according to Howes, even if the headdresses they wore were a marketing tool rather than an accurate representation of their heritage and were 'frowned upon' by the band. As Joy Porter remarks, 'Stereotypes sell, always have'.
Native North America (Vol. 1): Aboriginal Folk, Rock, and Country 1966-1985 is available from Light in the Attic Records.
Rhys Griffiths is editorial assistant at History Today.