Paul Lay on the self-deprecating nature of Brummies.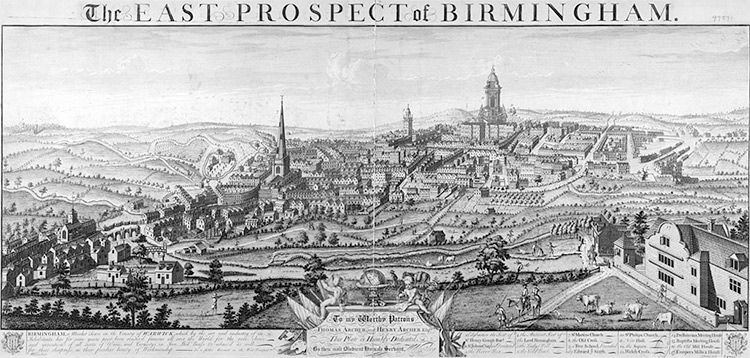 The first statue of Horatio Nelson was erected not in London's Trafalgar Square but in Birmingham, in 1809. It has been fiddled with and moved since then and now stands between Selfridges and the spruced up Bull Ring shopping centre. Nelson was born in Norfolk, a long way from Birmingham, a city with little maritime heritage, but he made a splash when he visited the bustling town, as it then was, in August 1802, enough to inspire the locals to raise £2,500 to commemorate his heroics. 
Brummies are famously self-deprecating, which may be why it took until 1956 for the second city to celebrate heroes of its own. That year, a gilded bronze statue, known locally as the 'Golden Boys', was unveiled in honour of three great pioneers of the Industrial Revolution: William Murdoch, James Watt and Matthew Boulton. Murdoch and Watt were Scots, who came to live and work in Birmingham in the 18th century, pioneering the use of steam engines and gas lighting, among numerous other advances. Boulton, a native of the city, was the business brains, the entrepreneur, whose Soho Manufactory, in the Handsworth area of the city, built the products that the likes of Watt and Murdoch devised. Boulton's home nearby, Soho House, hosted the Lunar Society, the dinner club attended by Josiah Wedgwood, Erasmus Darwin and Joseph Priestley, which gave voice to the Midlands Enlightenment. 
It seems right that we celebrate such figures, though there is much less eagerness today to vaunt the military, despite Britain's seemingly endless participation in conflict. Even scientists are relatively undersung; there is a park bench statue in Manchester, raised in 2001, of Alan Turing, the computing genius whose cracking of German wartime codes was of immeasurable worth, though his homosexuality and its persecution, thankfully unthinkable today, at least in the civilised world, often seems of greater import. The shift in attitudes away from the 'great and good' is underlined by a prominent new statue in Birmingham, the work of Gillian Wearing. A Real Birmingham Family depicts local sisters Roma and Emma Jones and their young sons Kyan and Shaye. It celebrates what they are – ordinary – rather than what they have achieved. Perhaps the most significant thing about the statue is that it was not, as once so many things were, 'Made in Birmingham', but in China. 
Paul Lay is the editor of History Today.