Communist Romania's biggest concession to the west's Dracula obsession.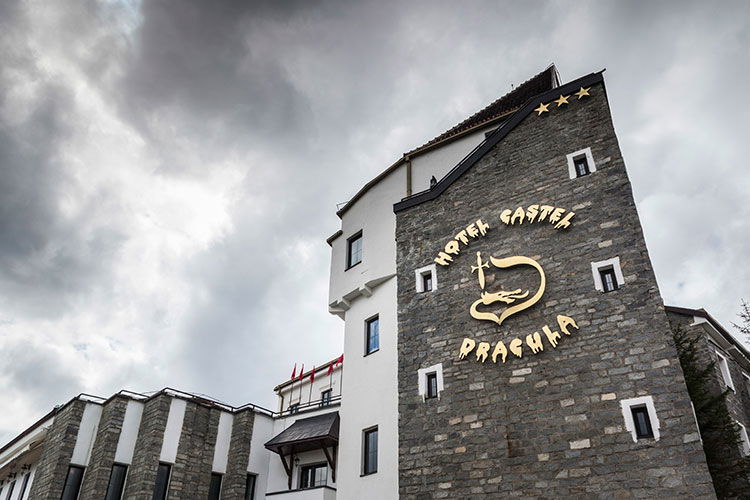 By the time he was ousted in the revolution of October 1989, comparisons between Romania's dictator Nicolae Ceaușescu and the eponymous villain of Bram Stoker's 1897 novel Dracula (set in Romania) were commonplace. Ceaușescu was met with chants of 'Dracula!' on a visit to the US in 1978, perhaps explaining why his attitude towards Dracula tourism – previously tolerated as a lucrative industry – hardened soon afterwards. Though it is possible Ceaușescu was not aware of Stoker's novel (first published in Romanian in 1990) and that he understood 'Dracula' to be Vlad the Impaler, it has been claimed that he banned the word. He may also have unwittingly authorised his country's biggest concession to western interest in Dracula. 
The county of Bistrița-Năsăud – the location of the Count's fictional castle – had long attracted Dracula fans. In the late 1970s its tourism chief persuaded the communist authorities to grant permission for a hotel named 'The Golden Crown' (a fictional inn in the novel), but an ostentatiously Dracula-themed hotel built high in the Borgo Pass was unthinkable. Yet when, on one of Ceaușescu's regular hunting trips to the region, officials had a chance to show him their discreet plans, the dictator supposedly asked 'who's stopping you from building it?', simply approving, he thought, an unusual hotel at an unusual height. His approval brought with it funds from the Ministry of Tourism and Hotel Tihuta opened in 1983. It was renamed Hotel Castel Dracula in 1991 and remains open, complete with a Bram Stoker statue and a chance to 'meet the Count'. Recent reviews describe the hotel as 'right out of the novel', 'kitsch' and 'out-dated':  arguably interest in Ceaușescu has now usurped Dracula as Romania's biggest tourist draw.