Druids' Temple, Yorkshire
A 19th-century folly inspired by Stonehenge.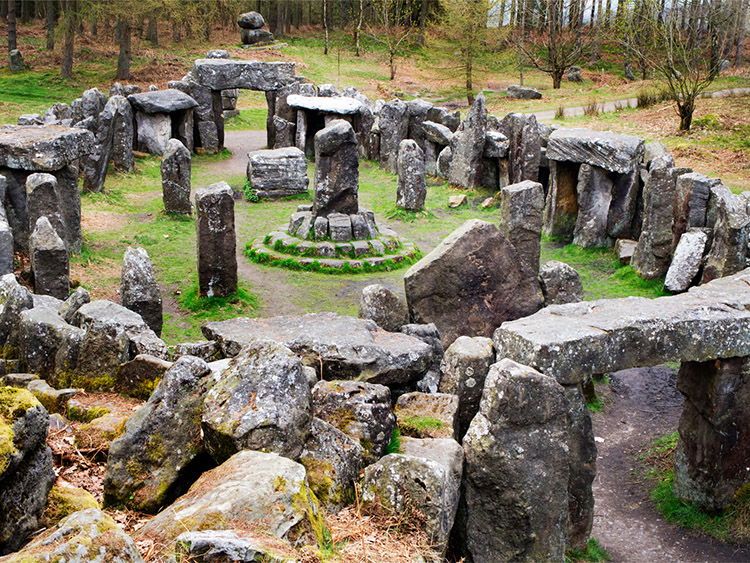 Little is known about the Druids, the ancient Celtic order associated with magic, religion and, sometimes, bloodthirsty barbarism, who resided in northern Europe around 2,000 years ago. Archaeology has proved unenlightening: 'Not a single artefact has been turned up anywhere which experts universally agree to be Druidic', wrote Ronald Hutton in History Today in 2009.
Yet, removed from the lost reality of who the Druids really were and taken, instead, to refer to the various things Druidry has come to mean, plenty of 'Druidic' sites exist across the British countryside. The evocative potential of pagan Britain was embraced in the 15th century when an awakening nationalism encouraged the Celtic nations and, later, England, to seek heroic ancestors. Druids fitted the bill. In 1740 the clergyman William Stukeley dated Stonehenge to 460 BC and attributed its construction to the Druids. Although now debunked, his claim held for over a century. 
This folly was inspired by Stonehenge and known as 'Druids' Temple'. Built in 1820, It was commissioned by William Danby, one-time Sheriff of Yorkshire, near his home, Swinton Park, in the north of the county. Unlike Stonehenge, no mystery surrounds its construction: Danby paid local workers affected by a depression to build the 100-ft long temple with stones standing 10ft tall, a sacrificial altar and a tomb where, reportedly, Danby hired a hermit to live for seven years, 'speaking to no one and allowing his beard and hair to grow' (the successful candidate lasted only four). Baroness Masham of Ilton cited the temple in a speech to the House of Lords in 2000, arguing for restricted public access to the countryside. 'It is thought that there has been Devil worship there,' she complained.