Gordon Marsden appreciates the long and brilliant career of the great historian of Tudor Britain.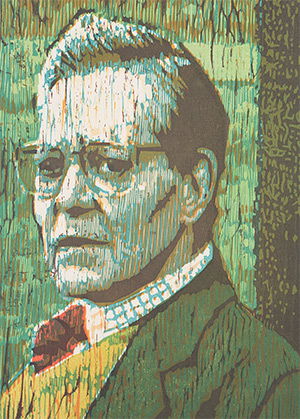 Penry Williams, who has died aged 88 in Oxford, was one of the great Tudor historians of the past half century. His teaching career spanned four decades, at Manchester University (1951-64) and then New College Oxford (1964-92), and his publications more than five.
They range from the magisterial monograph he published in his early thirties, The Council in the Marches of Wales under Elizabeth, through to a final glorious book, Sir Walter Raleigh In Life and Legend. Co-authored with Mark Nicholls, it was published just two years ago and praised for its fresh interdisciplinary insights. The Atlantic magazine remarked: 'A great subject for a great biography. Here it is!'
Penry Williams' deeply rooted Welshness gave pride and perspective to his work but never made it parochial. His other books were completed for the most part over 40 years frontloaded with heavy teaching responsibilities at New College and across Oxford, as well as editing the English Historical Review. The books have become standard defining works, from his broad-audience Life in Tudor England (1964) through to The Tudor Regime (1979) and his 1995 New Oxford History volume The Later Tudors.
The latter was described in History Today by Cliff Davies as a 'massive book'. Another reviewer remarked 'how can one resist a book whose opening sentence begins "In 16th century England sheep outnumbered humans by 2 or 3 to one"?'
From Penry's room in New College's Queen Anne quad flowed a stream of activities and publications, testament to his collegiate devotion. For years a meticulous editor of the annual New College Record, the 1979 600th anniversary history of the college he co-edited with John Buxton was a cross-disciplinary tour de force before such things became fashionable.
Penry's death coincides with the 50th anniversary of the 1963 spate of articles in Past and Present, where, alongside Gerrald Harriss, he challenged head on Geoffrey Elton's thesis of a 1530s administrative revolution under Thomas Cromwell.
The careful credit for governance  they gave to earlier rulers such as Henry VII (who Penry wrote perceptively about for History Today) has acquired fresh resonance given Hilary Mantel's fictional remodelling of Cromwell and that most turbulent of decades.
Penry's character exuded the best of traditional liberalism, with a dry wit that never dessicated his deep personal warmth or the righteous indignation he felt at the plight, for example, of young asylum seekers detained near Oxford.
He always went the extra mile in supporting his students, personally and professionally, with a quiet generosity of spirit that left him beloved by generations of them. He came through the trauma of losing his wife June cruelly early to cancer to find new happiness with his partner Sylvia Platt, who survives him.
It was entirely typical of Penry's selflessness that, together with George Bernard, he took on the daunting task of completing and publishing Jennifer Loach's biography of Edward VI from drafts left by his former student and Oxford colleague following her premature death.
In so doing he demonstrated a kinship with another great 16th-century historian, Garrett Mattingly, encapsulated in the latter's remark that for historians to 'do justice, however belatedly' to the dead should matter. That focus on the humane rather than the ego illuminated Penry Williams' work and life. It made him a fitting embodiment of New College's famous motto: 'Manners Makyth Man'.