The Legacy of Norman Cohn
Paul Lay remembers a historian who was never afraid of engaging with the public.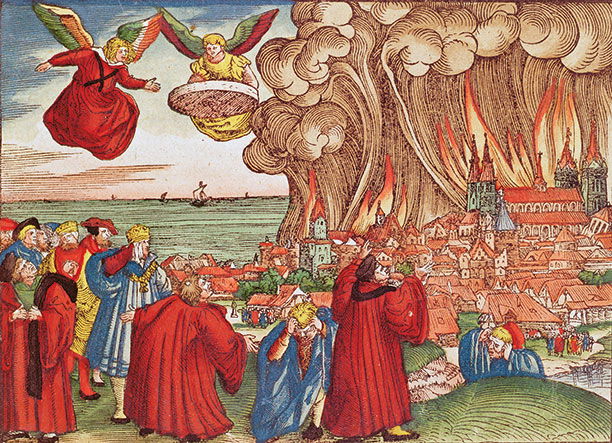 In July I was fortunate enough to be invited to a colloquium held at Birkbeck, University of London in honour of Norman Cohn, author of The Pursuit of the Millennium (1957) and Europe's Inner Demons (1975), who died in 2007.
Participants, evidence of the regard in which Cohn's work is held, included John Gray, Jinty Nelson, John Arnold and Daniel Pick. Cohn's work on eschatology, witchcraft and genocide is extraordinarily stimulating and, as his former colleague Frank Chalk pointed out, by the end of the day one's brain seemed to have expanded by an inch or two.
Among the many topics raised was that of public history, of which Cohn was a master. His ability to combine rigorous scholarship with popular appeal is a rare one, for unlike Cohn many historians are not able to convey motivation, emotion and other qualities at which novelists, for example, excel. Cohn's work was one long argument against R.G. Collingwood's belief that: 'Irrational elements … the blind forces and activities in us, which are part of human life … are not parts of the historical process.' That some, perhaps too many, historians subscribe to Collingwood's view is why classical literature, religious texts and the dramas of Shakespeare often offer greater insight into the human condition than works of history can.
Those historians who do engage with the public also need a brass neck, for they are always open to allegations of sensationalism and, almost inevitably, of simplification. Such criticism was aimed even at Cohn. Christopher Hill, for example, while praising Europe's Inner Demons for its interrogation of the sources, was critical of Cohn's 'obsessive fear of the urge to purify the world through the annihilation of some category of human beings imagined as agents of corruption and incarnations of evil', which – heaven forbid – led Cohn 'to link the great witch-hunt with Stalin and Hitler'. Others thought his description of the Anabaptists of Münster was sensationalist, a criticism with, perhaps, greater purchase.
But such barbs did not put a stop to Cohn and neither have they put a stop to bold, expansive histories written with a large audience in mind, as recent works by Ian Morris, Jared Diamond, John Darwin and James Belich demonstrate and of which David Priestland's Merchant, Soldier, Sage: A New History of Power is a notable recent example. Its sweeping theories of 'caste struggle' verge on the preposterous at times, but not a page of it is short on stimulation and it is always good to see a historian test the boundaries of their discipline. For, as Cohn knew, to be criticised for such endeavours is not the end of the world.