Disgust, or Deathly Terror? Ghost Pranks Past and Present
Richard Suggs on the history of ghoulish impersonations.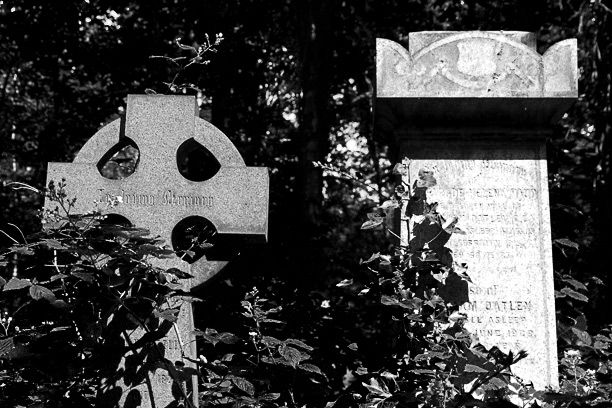 Recently Anthony Stallard, 24, was fined for 'pretending to be a ghost… in a cemetery' in Portsmouth. It seems fair to assume that the witnesses, who reported a group 'engaging in rowdy behaviour and one of them throwing their arms in the air and saying "woooooo"', after an evening's drinking, found the imitation more distasteful than terrifying. And it also seems reasonable to imagine that, had Stallard been alone, and cloaked in a white sheet for his imitation, few people would have been frightened by the sight. By contrast, throughout the 19th century, most people believed in ghosts. And when somebody decided to imitate one, a white sheet and some dark shadows were sometimes quite enough to frighten their victim to death.
In February 1825 a farmer, John Benjamin, was up before the Middlesex bench after being arrested at around one in the morning, 'on horseback, clothed in a white sheet, with a hairy cap tied under his chin, his arms extended, and making the most hideous noises'. Benjamin had been up to these tricks 'for some nights past', we learn, 'to the terror of the females of Hammersmith'. Benjamin's antics would probably have been considered more offensive had he performed them in a graveyard. But when he and similar tricksters were charged or prosecuted, it was typically more a matter of concern for the living, than of respect for the dead. In this case, especially, the ghostly actor should have known much better. For many in Hammersmith probably still remembered the notorious events of the winter of 1803-4, which had terrorised the area.
Around late November 1803 somebody was roaming the nocturnal streets and lanes in a white sheet. This would-be spectre also had a penchant for graveyards. One night a heavily pregnant woman was 'crossing near the churchyard about ten o'clock … when she beheld something … rise from the tomb-stones. The figure was very tall, and very white! She attempted to run, but the ghost soon overtook her, and pressing her in his arms, she fainted'. Found hours later by neighbours, she was put to bed in a state of shock and allegedly died there.
Similar terrors shook Hammersmith residents throughout December. On January 3rd, 1804, a local man, Francis Smith, decided to take matters into his own hands. Armed with a fowling piece, Smith was treading a very dark lane in search of the ghost when he spied something all in white. He challenged the figure. There was no answer and it continued to approach him from the shadows. Shouting 'Damn you, who are you, and what are you? Damn you, I will shoot you' Smith fired his gun – instantly killing a bricklayer, Thomas Milwood, who had been walking home in his white work clothes. Ironically, Milwood had been warned, only days earlier, to wear a dark coat over them, after three people mistook him for the ghost.
Although Smith was initially sentenced to death for murder, he was quickly reprieved, and ultimately received a full royal pardon. If many of the public felt this to be no ordinary murder, Smith's terrified 'what are you?' further suggests that he had feared something more than a human prankster on that January night. Curiously, the 'real Hammersmith Ghost' proved to be a local shoemaker, Graham, who had donned the fearsome blanket to frighten his own apprentices, after they in turn had frightened his children with ghost stories …
Did the shoemaker's antics really cost a pregnant woman her life? There is a good chance that they did. Throughout the century people were quite literally frightened to death by what they took to be ghosts. In autumn 1863 19-year-old Priscilla May was going up the stairs in a house in Hyde Park Gardens when something in white lurched out of a doorway at her. She fell back screaming into the arms of her governess, blood pouring from her nose. Confined to bed in her father's house, she died apparently in a matter of hours. Here again the ghost was nothing more sinister or impressive than a person in a white sheet – in this case a household servant, Emma Frisley, who had decided to play a joke.
Although Frisley escaped formal prosecution, in 1857 a farm servant called John Percival spent three months in prison, charged with manslaughter, after one Monday evening the previous December gliding about under a white tablecloth, moaning, as a 15-year-old, John Mitchell, passed by. Even after Percival had thrown off the cloth and revealed his homely self, Mitchell went home wild-eyed and trembling with fear. In the following days he refused food, vomited, and 'raved in his bed'. By Friday evening the teenager was dead. Percival was acquitted in spring 1857 – partly because the doctor testified to Mitchell's weak constitution; but partly also because, interestingly, the law could not decide if merely posing as a ghost was a criminal offence.
All this serves to remind us that fear is often a matter of what is already in one's head: not that long ago, people's minds were filled with powerful beliefs about witches, the evil eye and the restless dead. When people died of ghost-terror, they were essentially succumbing to the force of mind over matter – the aggravated shock which killed them was uncannily similar to that experienced by an Australian aborigine, who suffered 'voodoo death' after being cursed by a witch-doctor. But the aborigines were 'savages', and Britain was the richest country in the world, upon whose empire the sun never set. Small wonder, then, that when the educated élite was exposed to the superstitious terrors of the British masses, they often found themselves baffled, both intellectually and legally.