The history of the tuxedo, and other garments named after historic people or places.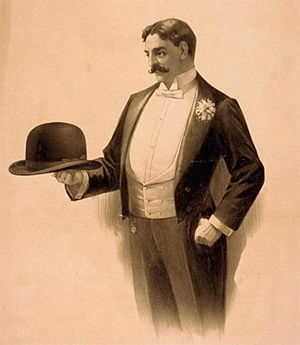 Man wearing a tuxedo, c.1896 (Library of Congress)
James Potter Brown attended the Autumn Ball of the Tuxedo Club in New York State 126 years ago this October. He was wearing a new kind of short, tail-less evening jacket tailored for him by Henry Poole & Co of Savile Row, on the recommendation of Edward, Prince of Wales, later Edward VII, with whom Potter had been staying at Sandringham that summer.
The jacket was admired by other members of the club, who had  'dinner' jackets made up for themselves for when they were dining at the club. One evening a group of members wore their new jackets to a dinner at Delmonico's in New York City and upon being asked about their attire replied: 'This is what we wear for dinner at the Tuxedo.' From then on the dinner jacket was known in America as the Tuxedo or 'Tux'. Here are some more articles of clothing named after people and places.
Jersey: A knitted garment of wool or cotton with long sleeves, worn over the upper body as a pullover. Since the Channel Island of Jersey was famous for its knitting trade in medieval times, especially for its dark blue, water-resistant sweaters, the name jersey became associated with all such knitted items of clothing.
Cardigan: A type of sweater that opens down the front, as worn by the 7th Earl of Cardigan during the Crimean War. The earl, of course, took his name from Cardigan in Wales.
Balaclava: A type of woollen headgear that covers the whole head with just an opening for the eyes and mouth, as worn by British troops at the Battle of Balaclava on October 25th, 1854, during the Crimean War.
Balmoral: A type of hat as worn by Scottish Highland warriors. The name dates from the 19th century when the hat was traditionally worn as full dress head-gear at Balmoral Castle, the Deeside home of Queen Victoria.
Mackintosh: A type of waterproof raincoat made from rubberised material, often abbreviated as 'mac', and named after the inventor, Charles Macintosh of Glasgow. The invention is spelt with a 'k', the inventor is not.
Ulster: A heavy herringbone or tweed overcoat with a cape and sleeves made in Belfast by the Ulster Overcoat Company, particularly popular in Victorian times. Sherlock Holmes frequently wore an Ulster, as did Billy Connolly in his role as Queen Victoria's ghillie, John Brown, in the 1997 film Mrs Brown.