Christopher Winn looks at the history of London Bridge, whose most recent incarnation opened in March 1973.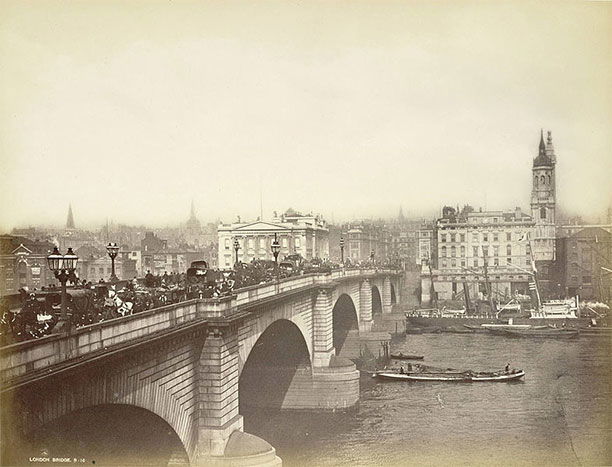 On March 17th, 1973 Elizabeth II opened the present London Bridge, the third stone bridge to span the River Thames at the point where the Romans constructed a wooden bridge and gave birth to London.
The previous London Bridge, built by Sir John Rennie, was bought by an American businessman, Robert McCulloch, as the largest antique ever sold and reconstructed at Lake Havasu, Arizona. Legend has it that McCulloch thought he was buying Tower Bridge, but this has always been denied.
The first stone London Bridge was begun in 1176, lasted over 600 years, was lined with shops and houses and in 1722 became the first place in Britain where it was made compulsory to drive on the left, after the Lord Mayor ordered bridge traffic to keep to the left to ease congestion.
Here are some other ground-breaking bridges that opened in March.
When it was opened by the Prince of Wales, later Edward VII, on March 4th, 1890, Scotland's Forth Railway Bridge was quite simply the world's biggest'. It was the first major bridge of its kind to be made of steel and had a main span 1,710 feet in length, three times longer than any structure ever built before; it remains the second longest single-cantilever bridge span in the world, after the Quebec Bridge in Canada. Such was the size and magnitude of the bridge that the steel surface of the structure required constant repainting, giving rise to the expression 'like painting the Forth Bridge', meaning an unending task.
Opened on March 31st, 2012 China's Aizhai Bridge is the longest and highest tunnel-to-tunnel bridge in the world, with its roadway suspended 1,150 feet above the valley floor. Construction of the bridge has reduced travel time between the townships of Jishou and Chadong from four hours to less than one hour.
Opened on March 19th, 1932, Sydney Harbour Bridge, designed and built by Dorman Long and Company of Middlesbrough, was then the widest long span bridge in the world, with a width of 160 feet. It was surpassed by Vancouver's Port Mann Bridge only in 2012. It is still the tallest steel arch bridge in the world, 440 feet high from the top to the water. Known as 'The Coathanger' it is consistently voted Australia's most recognised icon.
From The Archive
Spanning Centuries: London Bridge
Until 1729, London Bridge was the capital's only crossing over the Thames and a microcosm of the city it served, lined with houses and shops on either side. Leo Hollis looks at the history of an icon.