A New Moral Order: Britain at the Start of the Great War
When Britain declared war on Germany in August 1914 there was no outbreak of jingoism and no immediate rush to enlist. What Anthony Fletcher finds instead, in letters, diaries and newspapers, is a people who had little comprehension of the profound changes to come.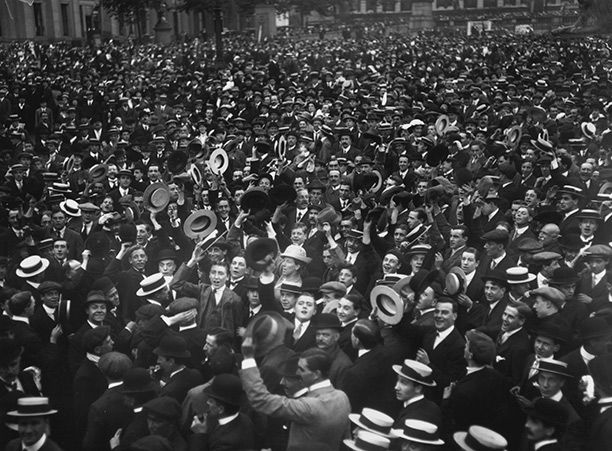 People talked about the 'Great War' before Britain had even declared war on Germany in August 1914. On the 2nd Robert Saunders, a schoolmaster at Fletching in Sussex, told his son living abroad about the war plans being made in southern England: 'Everything points to the Great War, so long expected, being upon us, so you can picture the restless excitement among all classes.' Winifred Tower, at Cowes for the annual yachting festival, left a vivid diary account of her state of mind on the day, August 4th, that war was actually declared on Germany. She had been to a Red Cross meeting and the territorials there were mobilising. The declaration at midnight was 'almost a relief':
But it was impossible to believe that 'the Day' had actually come. We had talked about it, argued about its possibilities, volumes had been written about it, it had been a sort of nightmare, always hanging over us, and yet I don't suppose many of us thought that it would become a reality in our time and that we were destined to live in the stirring days of our history … suddenly it seemed like a bad  dream that we should wake from to find our world  unchanged.
This article explores the many emotions – apprehension, anxiety, shock, disorientation and fear – experienced by the British people in a month when family and personal lives were ripped apart by an unprecedented international crisis. Investigating the national mood, it argues that already, in August 1914, a new moral order was replacing the carelessness of the long Edwardian peace. The outline and chief features of this new moral order, fully apparent by the end of the year, were being established.