Mushroom Clouds in the Arctic
The collapse of the USSR after 1989 opened up Russia's Arctic region to a degree of scrutiny previously denied historians. Katherine Harrison and Matthew Hughes examine the Soviet approach to nuclear testing.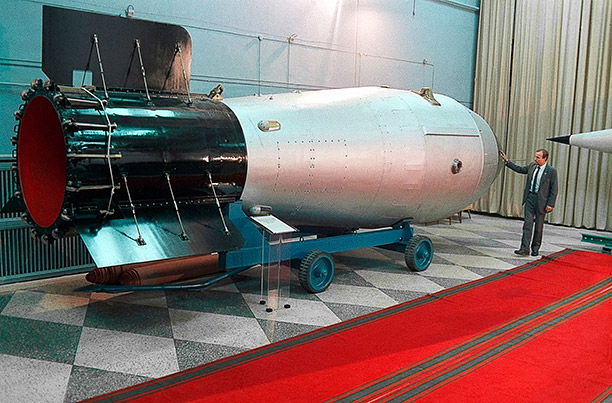 In July 1945, at a military testing site in the New Mexico desert, American scientists exploded the world's first nuclear bomb, codenamed 'Trinity.' A month later, US Air Force B-29 Superfortress bombers dropped two atom bombs on the Japanese cities of Hiroshima and Nagasaki. In 1949, after the Soviets exploded their first atomic device, it became clear that a race to develop and test these weapons had begun and Britain, France, China, India and Pakistan all detonated their own test bombs. Israel is thought to have tested a device in the sea near Antarctica in 1979 and North Korea has also trialled its own nuclear bomb.
Since the end of the Second World War some 2,000 devices have been tested: 715 by the USSR, including the largest ever test explosion of the 27-ton hydrogen bomb in October 1961, a bomb 3,300-times more powerful than the explosion at Hiroshima and far too big ever to have been used in any war. The US, by comparison, tested 1,032 nuclear devices. Nuclear testing above ground, under the sea and in outer space was prohibited by the Partial Test Ban Treaty, signed by three of the four existing nuclear powers (UK, US and USSR) in 1963, though France continued above ground atmospheric testing until 1974, while the newer nuclear state, China, did so until 1980. Underground nuclear testing gradually dropped off until the drawing up of the Comprehensive Test Ban Treaty in 1996, though non-signatories India and Pakistan last detonated test bombs below ground in 1998. Only North Korea seems to have conducted nuclear test explosions since 1998, the latest, underground, in February 2013.