'The Great Compromise' - Drafting the American Constitution, 1787
Jack N. Rakove tells how 'the miracle at Philadelphia' was an amalgam of high principles and backroom wheeler-dealing, to provide safeguards for the smaller states.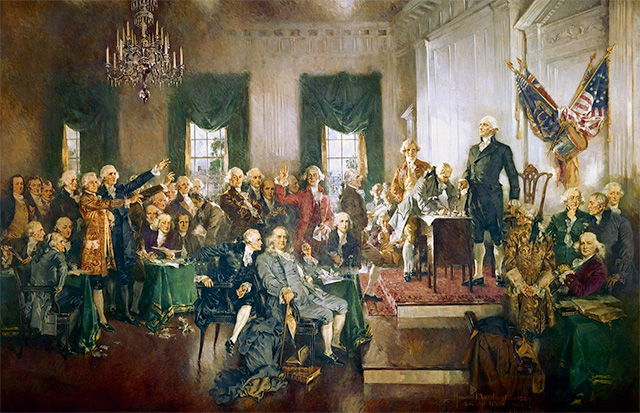 In 1878, when the United States Constitution was less than a century old, an inspired William Gladstone described it as 'the most wonderful work ever struck off at a given time by the hand and purpose of man'. Grateful Americans who still relish the approval of their former mother-countrymen have been quoting him ever since. But the appeal of Gladstone's aphorism rests on a deeper foundation – on the conviction that 'the miracle at Philadelphia' was just that. This image of the Federal Convention of 1787 is as venerable as the Constitution itself. 'The real wonder', James Madison observed:
Is that so many difficulties should have been surmounted, and surmounted with a unanimity almost as unprecedented as it must have been unexpected. It is impossible for any man of candor to reflect on this circumstance without partaking of the astonishment. It is impossible for the man of pious reflection not to perceive in it a finger of that Almighty hand which has been so frequently and signally extended to our relief in the critical stages of the revolution.
Whether one locates this miracle in the character of the delegates who gathered at Philadelphia in late May 1787, or in the compromises they struck before the Convention adjourned on September 17th, or in the simple durability of the Constitution, ultimately matters little.