During the 1770s there emerged a new type of fashionable fellow: the Macaroni, whose style was frequently and easily lampooned by cartoonists and the media.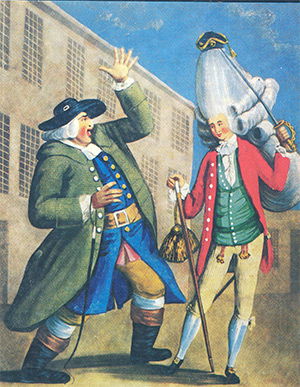 'Welladay! Is this my son Tom?', a cariature of macaroni fashions by Carrington Bowls, 1770.
In the last quarter of the eighteenth century, an age of extravagant fashions, the style of clothing adopted by the macaronis attracted much contemporary comment in the period of their greatest popularity, the early 1770s.
These young men affected great sensibility and were famous for their effeminate dress; they were, in fact, the latest in a long line of young men in the eighteenth century (and before) who, by exaggerating current styles and trends in dress, started new fashions.
Earlier in the century they had been called 'beaux'; a famous example of this kind of fashionable young man is described in Smollett's novel Roderick Random (1748) where Captain Whiffle: