The Plague and the Fire: Reminiscences of Restoration Times
A contemporary account of life in Restoration London and Oxford by William Taswell, spanning the years 1660 until circa 1675. Includes personal obervations of the Plague and the Great Fire. Originally featured in the December 1977 issue of History Today.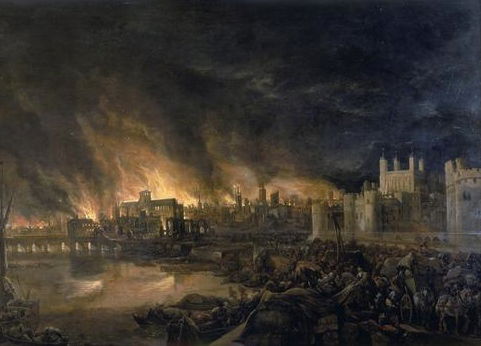 Little is known of the author of this hitherto unpublished manuscript, apart from the information he gives us in his prefatory notes. There he tells that his father was 'a considerable merchant in the Isle of Wight'; that he was born on May 1st, 1652 'at a seaport town . . . called Cowes'; and that he had an elder brother, James, 'who at this time enjoys the paternal estate situated in the parish of Lymington in the county of Somerset'.
As the narrative explains, William Taswell was educated at Westminster and Oxford, where he gained some distinction; but 'for these seven years past and upwards' — he was writing in 1700— 'my attention has been for most part fixed towards husbandry or in employments of an inferior nature'. Meanwhile, he feared he had forgotten his Latin; and, 'to revive again if possible a knowledge of myself and letters', he decided to compose an account of his ancestry and 'commentaries upon life . . . in the Roman language'. His Latin text appears to have been translated soon afterwards, no doubt by a member of his family. The manuscript is now in the possession of his collateral descendant Sir James Bowker, who has kindly allowed us to reprint the following extracts.
On the 26th of May [1660] I had the pleasure of seeing King Charles II return from his exile. He came in procession to Whitehall riding between his two brothers Dukes of York and Gloucester with a fine red plume in his hat — amidst an august assembly of nobles, esquires &c [etc.].
About the end of the year 1660, about nine years of [age], I was admitted into the lowest class of Westminster School. . . . In 1665 when the Plague commenced in town Dr Busby removed his scholars to Chiswick. But it spread its baneful influence even to this place. Upon this Dr Busby called his scholars together and in an excellent oration acquainted them that he had presided as Head Master over the school twenty-five years, in which time he never deserted it till now; but that the exigency of affairs required every person should go to his respective home. I very greedily laid hold of the opportunity of going to Greenwich where I remained ten months. It was a custom peculiar to this unhappy time to fasten up the doors of every house in which any person had died, and after having marked it with a red cross to set up this inscription — 'The Lord have mercy on them!'
The Plague at last reached our house. And we sent two maid servants to the public pest house at the time my father and mother lay sick in different beds, and my eldest brother troubled with a tumour in his thigh. But no one of our family dying, I was soon set at liberty. In the month of September, when a thousand were swept away each week, my father commanded me to carry some letters to town. It was not without reluctance I obeyed. But at last my duty got the better of my inclinations, and after he had provided me with the herb called Angelica and some aromatics, besides eatables in a bag — my kind and indulgent mother giving me, too, some Spanish wine — I made the best of my way to town. There a variety of distressed objects represented themselves to me, some under direct influence of the Plague, others lame through swellings. Others again beckoning to me, and some carrying away upon biers to be buried. In short, nothing but death stared me in the face. But it pleased God to extricate me from the danger which threatened me.
There were two houses which principally engaged my attention among many others I went to. One belonged to Mrs Harrison who was the only survivor of her whole family (seven children). The other was my father's house, kept by a good old faithful servant named Johanna whom I am bound by ties of gratitude to mention with respect. She had the care of me from my infancy. As soon as she saw me, she laid hold of me and, folding her two arms round my neck, she embraced me and said 'My dear boy, how do you do!' Notwithstanding this, I returned safe home to Greenwich, acquainting them with the particulars of my journey.
This Johanna was seized with the plague and recovered, only one man servant with her in the house dying. In the year 1666, about the Easter week, when the violence of the Plague was considerably abated, I revisited Westminster School. It was at that time about the middle of May, and it was the time of Election for those who were to be admitted King's Scholars, myself being appointed to succeed as 13th. The Christmas following twelve scholars were admitted. . . . The 4th of May 1677, I was enrolled a King's Scholar by the Bishop of Rochester, Dean of Westminster. I was extremely maltreated during my seven months' and two weeks servitude as junior by the Monitors whom a considerable share of power with which they are invested renders insolent, and employed chiefly in performing the menial office of a servant.
And not to pass over in silence that memorable event — The Fire of London — September 2nd. It happened between my election and admission as scholar. On Sunday between 10 and 11 forenoon, as I was standing upon the steps which lead up to the pulpit in Westminster Abbey, I perceived some people below me running to and fro in a seeming disquietude and consternation. Immediately almost a report reached my ears that London was in a conflagration. Without any ceremony I took my leave of the preacher and, having ascended Parliament Steps near the Thames, I soon perceived four boats crowded with objects of distress. These had escaped from the fire scarce under any other covering except that of a blanket. The wind blowing strong eastward, the flames at last reached Westminster. I myself saw great flakes carried up into the air at least three furlongs. These at last, picking upon and uniting themselves to various dry substances, set on fire houses very remote from each other in point of situation.
The ignorant and deluded mob, who upon the occasion were hurried away with a kind of frenzy, vented forth their rage against the Roman Catholic and Frenchmen, imagining these incendiaries (as they thought) had thrown red hot balls into the houses. A blacksmith in my presence, meeting an innocent Frenchman walking along the street, felled him instantly to the ground with an iron bar. I could not help seeing the innocent blood of this exotic flowing in a plentiful stream down to his ankles. In another place I saw the incensed populace divesting a French painter of all the goods he had in his shop, and, after having helped him off with many other things, levelling his house to the ground under the pretence that they thought himself was desirous of setting his own house on fire that the conflagration might become more general. My brother told me he saw a Frenchman almost dismembered in Moorfields because he carried balls of fire in a chest with him, when in truth they were only tennis balls.
In this interval of time, when the fury of the common people burst forth with an irresistible torrent upon these unhappy objects of distress, a report on a sudden prevailed that four thousand French and Papists were in arms, intending to carry with them death and destruction and increase the conflagration. Upon which every person both in City and suburbs, having procured some sort of weapon or other. . . collected themselves together to oppose this chimerical army. On the next day John Dobben, Bishop of Rochester and Dean of Westminster (who in the Civil Wars had frequently stood sentinel) collected his scholars together in a company, marching with them on foot to put a stop if possible to the conflagration. I was a kind of page to him.. We were employed many hours in fetching water from the back side of St Dunstan's Church in the East where we happily extinguished the fire.
The next day, Tuesday, just after sunset at night, I went to the royal bridge in the New Palace at Westminster to take a fuller view of the fire. The people who lived contiguous to St Paul's Church raised their expectations greatly concerning the absolute security of that place upon account of the immense thickness of its walls and its situation, built in a large piece of ground on every side remote from houses. Upon this account they filled it with all sorts of goods. And besides, in the Church of St Faith under that of St Paul's, they deposited libraries of books, because it was entirely arched all over — and with great caution and prudence every the least avenue through which the smallest spark might penetrate was stopped up. But this precaution availed them little. As I stood upon the bridge among many others, I could not but observe the gradual approaches of the fire towards that venerable fabric. About 8 o'clock it broke out on the top of St Paul's Church already scorched up by the violent heat of the air and lightning too; and before long it blazed so conspicuous as to enable me to read very clearly a 16mo [tiny, pcoket-size folio] edition of Terenice which I carried in my pocket.
On Thursday, soon after sunrising, I endeavoured to reach St Paul's. The ground so hot as almost to scorch my shoes, and the air so intensely warm that, unless I had stopped sometimes . . . to rest myself, I must have fainted under the extreme languor of my spirits. After giving myself a little time to breathe, I made the best of my way to St Paul's. And now let any person judge of the violent emotion I was in when I perceived the metal belonging to the bells melting, the ruinous condition of its walls, whole heaps of stone of a large circumference tumbling down with a great noise just upon my feet, ready to crush me to death. I prepared myself for returning back again, having first loaded my pockets with several pieces of bell metal. I forgot to mention that near the east walls of St Paul's a human body presented itself to me, parched up as it were with the flames, whole as to a skin, meagre as to flesh, yellow as to colour. This was an old decrepit woman who fled here for safety, imagining the flames would not have reached her there. Her clothes were burnt and every limb reduced to a coal.
On my way home I saw several engines which were bringing up to its assistance all on fire, and those concerned with them escaping with great eagerness from the flames which spread instantaneously almost like a wild fire. And at last accoutred with my sword and helmet, which I picked up among many other in the ruins, I traversed this torrid zone back again.
Papers half-burnt were carried with the wind to Eton. The Oxonians observed the rays of the sun tinged with unusual kind of redness. A black darkness seemed to cover the whole hemisphere, and the bewaiings of people were great. It could not be expected that my father's houses should escape this almost general conflagration. They shared the same fate with others. But what rendered our loss still greater was this. Certain persons, assuming the character of porters, but in reality nothing else but downright plunderers, came and offered their assistance in removing our goods. We accepted of them; but they so far availed themselves of our service as to steal goods to the value of forty pounds from us.
There was a large vaulted cellar under our house, where my father kept particular sorts of wood and some combustible matter, too, for the sake of making some experiments. These were found entire afterwards, contrary to what I had observed, in other like places, where great citizens placed fuel in &c [etc.], and the fire was not extinguished four months afterward. About the beginning of the year 1670 the funeral obsequies of General Monk were celebrated; previous to which a Royal vault was opened in which were two urns; one appropriated to Queen Mary, the other to Queen Elizabeth. I dipped my hand into each; I took out of each a kind of glutinous red substance somewhat resembling mortar. That of Mary only contained less moisture.
[In 1670 Taswell went up to Oxford]:
About the end of June following we took our leave of Westminster and on the 29th of the same month, St Peter's Day, we reached Oxon. The next day I was admitted with the rest into College Christ Church and soon after matriculated. We all of us lived as commoners till the 19th of December when we were enrolled as students. Had a separate room allowed me, without the inconvenience of chumming, and prosecuted my studies alone. I wainscoated this room and lived in it thirteen years.
In the year 1677 my father married Elizabeth Kingsmill, sister of one of the same name, with a fortune of £600 at Andover. Soon after the wedding I was sent for to Greenwich, and after staying there a month I returned to college. My father indulged his new bride so far as to esteem all his children for nought in comparison. He withdrew his allowance from them all that he might live more luxuriously with her.
Upon this account my elder brother went into the Navy and was in three engagements against the Dutch, and afterwards retired to India in the East as a Merchant. My younger brother sailed to Jamaica where he remained till my father's death. My elder sister lived as an attendant on a lady formerly a mess-mate of hers. My younger sister determined to submit to all the drudgery at home rather than seek her victuals out from home. I in the mean time (my allowance being withdrawn) lived at Oxon in a state of great indigence. Which way to turn myself I knew not, or how I should extricate myself from debt was a question. If parsimony and frugality would have enabled me to keep within bounds, I should have thought myself happy. But my necessary expenses would have run away with my allowance if it had been doubled. The misfortune, too, was I was not old enough to go into orders and incapable of any employment which might render my circumstances easy in life. And as I was always looked upon as a gentleman, I was ashamed to lay open the real exigency of my affairs; and, on the other hand, to be thought covetous and close-fisted, because I withdrew myself from my acquaintance by an act of necessity only, I own galled me extremely.
Therefore a sad melancholy seized me. I spent my time for whole weeks chiefly in walking about my room. I could not apply my mind to study. If I attempted to read anything, my thoughts wandered elsewhere. I wrote to my father several times and entreated him to send me £16 at least since the rest had not less than £20. Or, if he would not comply with this, to portion me out £1020 for my fortune; and I promised him in return to forego my claim to everything afterwards. He alleged that my income at college was sufficient to maintain me, and, to conceal his barbarity under a more plausible form, accused me of crimes which to this day I never was guilty of, and which rendered me unworthy of his paternal care, as he pretended. However, at last, being overcome by the pressing solicitations of my friends as well as my own, he sent me £10; but with so ill a grace and so many reproaches as to injure me in the very act itself.
In the beginning of the year 1674 I was examined by Mr Shortgrove, Fellow of Wadham, for my degree of B.A. . . . About this time my father sent me £14, but took care to reproach me so heavily as determined me never to correspond with him again unless I could be certain of his treating me with more humanity. A profound silence thereupon succeeded for eighteen months. I took my degree in Easter term 1674. Having received no supplies from my father, I began to think of living with frugality. Several advantages accrued to me from taking my degree. (1)1 saved £4 a year which I used to give my tutor. (2) was Moderator of disputations which brought me £4; (3) The Dean hearing of my father's ill treatment of me frequently made me a present of £2, at the same time telling me it was designed as a reward of merit. Besides my studentship was of greater emolument to me after I had taken my degree than before. Under these advantages I supported myself.
In 1675, after I had determined in Lent and having bought a horse, I took a jaunt to Andover... Before I returned to College I saw Old and New Salisbury, Winchester and Wilton House which is the seat of the Earl of Pembroke. In the gardens of this were very curious waterworks. There was a rock with a bird sitting on it on one side. On the other side were some waters conveyed through pipes, which on its rising and falling resembled greatly the warbling of birds. In another place there was a looking glass, in which if any lady beheld her face, a pipe under her feet was sure to convey the water to her thighs. If a man was curious in that way too a pipe constructed behind him would convey the water into his breeches.
Towards the end of this year, 1675, I received letters from my father in which he said he thought better of me because I received some sort of countenance from learned men. He sent me at the same time £4. Hence I began to form expectations of recovering my former allowance. But, as soon as the affair of money came upon the carpet, we were enemies again. The Dean proposed in the Chapter that an annual exhibition, one of those originally intended to assist poor students, might be assigned to me. But this was objected to by a Canon now living, who made answer that these exhibitions were set apart for those who have no parents, or such as could not well support them; that my father had £1500 a year, and that by assigning this to me they might encourage other parents to follow his example and throw off the burden of educating their chilthen. This objection was allowed.
In 1676 the Dean proposed for me to take a school with a salary of £50; and likewise to get me tutor to two young noblemen's sons near Oxford. But I preferred poverty for the present, instead of receiving a decent maintenance and excluding myself from the University and all further prospects besides there. When money failed me, I sold my books, the least necessary ones; and besides was elected Moderator.
This year, 1676, as my father was overlooking the workmen employed in building his new seat in Somersetshire, he stood close by the garden wall. In this interval came up a wagon loaded with stone. The horses, taking fright, made immediately towards the wall and pressed the wagon against my father in such a manner that, unless the wall had given away, this might have been the last day my father would ever have seen. Nevertheless my father kept his bed for six weeks wrapped up in flannel, and never was well after it.
In 1677 I was to take my degree of M.A. I wanted for this purpose £10. The Dean gave me £2, my father £6 voluntarily; this the last I ever received from him. I was now very poor myself; notwithstanding I always gave something every day to the poor, which I observed for several years with great strictness. After I had taken my degree, I was taken sick in a coffee house as I was smoking my pipe. And, being very sick as to my stomach, I went out of doors and threw my dinner up, for which reason I never smoked afterwards.
If you enjoyed this article, you might like these: