Olympias' Funeral Games
Robin Waterfield looks at the influence of the mother of Alexander the Great in the years following her son's death.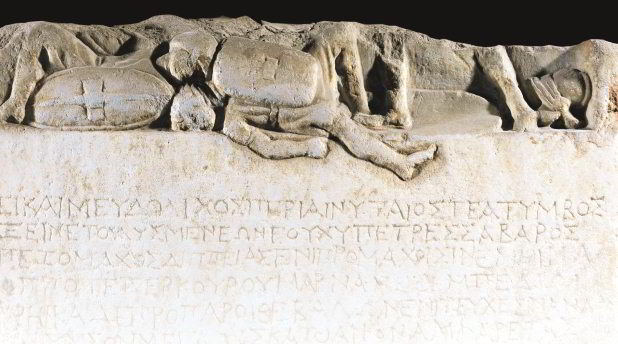 When Alexander III, better known as the Great, died in Babylon on June 11th, 323 BC, aged not quite 33, he left his fledgling empire in a mess. By the time the initial dust had settled, a compromise had been reached and the Macedonian empire found itself in the uncomfortable and unorthodox position of having two kings. Even worse neither of them was fully competent. Philip III (c. 358-317 BC), Alexander's half-brother, was an adult but mentally subnormal; the other king, Alexander IV (c. 323-309 BC), the son of Alexander III, was still an infant. Perdiccas (c. 360-320 BC), Alexander's second-in-command, seized power and made himself their regent and protector.
This recipe for disaster focused the divisive ambitions of Alexander's Successors. There was a distinct possibility that factions would form up behind one or the other of the kings and attempt to take over the empire in his name. The tales of the following years are tangled, but by following one thread, that of Alexander's mother Olympias (c. 375-316 BC), we can gain a sense of the turbulent dynamics of the period and of her own forceful nature, so unusual in a woman of that era.
Poisonous rumours
By the time of Alexander's death Olympias was living in neighbouring Epirus, the land of her birth. She could not abide Antipater, the viceroy Alexander had left in charge of Macedon during his eastern adventures, and she immediately began to stir the pot. She spread the rumour that her son had not died of natural causes, but had been poisoned by members of Antipater's family. She allowed the inference that Antipater himself was behind it all.
She had a good case. It was not just that violence often swirled around the Macedonian court, but Alexander's protracted symptoms were also not incompatible with the effects of a slow-acting poison such as white hellebore. Olympias could point to both motive and opportunity. Months before he died Alexander had ordered Antipater to give up his viceroyalty and present himself at Babylon. This was not just humiliating but also probably a death sentence and Antipater had not shown any willingness to comply with his sovereign's command.
As for opportunity, at least two of Antipater's sons were in Babylon. Cassander had been there for only a few weeks, with the job of pleading for his father's retention. Iolaus had long been there. And what was his job? Cup-bearer to the king. And when had Alexander fallen ill? Immediately after a boozy party at which he had been served by Iolaus.
It was an effective rumour. Olympias' aims were not just negative – to dislodge Antipater and his family from their position of power in Macedon. Her goal was to see her grandson, Alexander IV, come of age and occupy the throne. This is what she dedicated the rest of her life to, though she must have known that Macedonian child-kings rarely survived for long.


The illusion of peace
Over the next two years the potential for war became a certainty, largely thanks to Olympias. The Successors, however, kept up the pretence of peaceful co-existence. The chief instrument of this supposed rapport was the betrothal of Antipater's daughter Nicaea to Perdiccas. But the last thing Olympias wanted to see was Perdiccas tolerating Antipater in Macedon; she wanted her enemy out. And she had an instrument of her own – her daughter Cleopatra, Alexander's full sister.
Knowing of Perdiccas' betrothal to Nicaea, Olympias offered him Cleopatra instead. This was a major plank in Olympias' scheme to see her grandson on the Macedonian throne. She wanted Perdiccas to return in style to Macedon, married to Alexander's sister, welcomed by Alexander's mother, with two kings and Alexander's corpse in his train, at the head of the army with which Alexander had conquered the east. Under such circumstances Antipater would have had no future. Barring unforeseeable accidents Perdiccas would be the sole ruler of the empire until Alexander IV came of age. In all likelihood Olympias would find a way to get rid of Philip III, her grandson's rival. She had done as much before.
However sweet such fantasies of revenge, reality was rather more disturbing and complex. Another powerful Macedonian princess was showing signs of ambition to match that of Olympias. Even against the wishes of Perdiccas, in 321 BC 16-year-old Adea (c. 338-317 BC) pushed through her marriage to Philip III. This had the potential right from the start to irritate Olympias. Any son Philip produced would be a plausible candidate for kingship, not much younger than Alexander IV. It was another nail in her grandson's coffin. So now it was not just Olympias versus the Antipatrids, but Olympias' branch of the royal family against Eurydice's (the name Adea took on becoming queen).
Despite this setback Olympias' scheme went well at first. When Antipater heard that Perdiccas was courting Cleopatra, just a few weeks after marrying Nicaea, he immediately began to prepare for war. It was a conflict Olympias confidently expected Antipater to lose. But he did not. In 320 Perdiccas was assassinated by his own officers in the course of a bungled invasion of Egypt, where the satrap Ptolemy had allied himself with Antipater. By the spring of 319 Perdiccas' allies in Asia Minor (chiefly Eumenes of Cardia, one of the few Greeks in Alexander's inner circle) had been defeated by Antigonus Monophthalmus (the One-Eyed, 382-301 BC), the general appointed by Antipater to take charge of Asian affairs. Antipater's victory delivered the two kings into his hands. He was now the regent and he was still secure in Macedon. Olympias was even worse off than before, bereft of allies and no closer to securing her objectives.
The opportunist Olympias
As it transpired, she did have one ally: death. Antipater died just a few weeks later, in the summer of 319. His end was not unexpected since he was about 80 years old, but it cut straight through the illusory stability that his dominance had created. Once again, maybe Olympias could take advantage of a fluid situation. Once again, she did.
Antipater decreed that he should be succeeded as European regent by the Macedonian general Polyperchon (c. 385-c. 303 BC) and that his son Cassander (c. 354 BC-297 BC) should be second-in-command. This decision did not go down well with Cassander, who had been expecting to inherit his father's regency. He tried to win support within Macedon, but Polyperchon had an impeccable pedigree and had been singled out by Alexander himself as a possible replacement for Antipater as viceroy. Failing to find sufficient support at home Cassander left Macedon in the autumn of 319 and went to join Antigonus in Asia Minor.
In forming an alliance with Antigonus there was no doubt of Cassander's intentions: to oust Polyperchon from Pella with the help of Antigonus' wealth and forces and to rule Macedon himself as regent to the kings. Meanwhile Antigonus set about securing his position in Asia Minor by eliminating potential enemies and by recruiting Eumenes to work for him.
Antigonus, Cassander and Eumenes were formidable enemies for Polyperchon. But he was clever. Knowing that the last thing Olympias wanted to see was her grandson under the control of Cassander – abhorred son of a hated father – Polyperchon wrote to her, inviting her to return to Macedon and take over the regency of Alexander IV. Her presence by his side would enormously strengthen his hand. Both internal and external enemies would think twice before raising a hand against the Queen Mother.
Polyperchon's offer was just what Olympias needed, but still she hesitated. There were factions in Macedon that would not welcome her return or the implied elevation of Alexander IV over Philip III. She decided to wait a while.
Polyperchon's other pressing need was an ally to distract Antigonus in Asia – to stop him from simply marching on Macedon and installing Cassander as regent. Knowing Eumenes' loyalty to Olympias and suspecting that his deal with Antigonus might have been opportunistic, Polyperchon approached him with the offer of making him the official Royal General of Asia instead of Antigonus. He would be provided with enough money and men and, in theory, all the governors of Asia would be his subordinates. Eumenes had already been softened up by letters from Olympias and now, in the spring of 318, he reneged on his pact with Antigonus.
Diplomatic coup
Polyperchon's diplomatic skills were serving him well, but he still needed to secure the Greek mainland. Many of the Greek cities had unpopular administrations and garrisons installed by Antipater and these were likely to be loyal to Antipater's son Cassander. Polyperchon's response was bold. He wrote an open letter to all the Greek cities in the names of the kings offering to support their democratic factions against the oligarchies imposed by Antipater. This was a risky move: in the past it had been precisely the democratic elements of the Greek cities that had tended to oppose Macedonian rule.
In fact this stroke of Polyperchon's didn't really work. He briefly gained Athens by using military muscle to support the democrats there and he won a few cities in the Peloponnese on a longer-term basis but failed spectacularly at Megalopolis. Nor could he stop Cassander occupying Piraeus, Athens' port and lifeline, with men and ships supplied by Antigonus. Cassander planned to use Piraeus as the launch point for his attempt on Macedon.
Despite Polyperchon's lack of military success he gained an enormous diplomatic coup when Olympias finally decided to throw in her lot with him and become guardian of Alexander IV and effectively queen of Macedon. Polyperchon may not have been the most competent general, but he was the only one available to Olympias and she needed muscle more than anything else.
On the military front, however, things soon went from bad to worse when Polyperchon's entire fleet was wiped out in the Hellespont. He was now cut off from Eumenes, who had fled to Cilicia to escape the wrath of Antigonus at his defection. There was little to stop Antigonus crossing the Bosporus and coming at Macedon that way. But the One-Eyed wasn't yet ready to invade. He wanted to deal with Eumenes first. He left most of his forces with competent generals to protect Asia Minor, entrusted the war in Greece to Cassander and marched south-east after the renegade Eumenes and out of our story. Suffice it to say that Antigonus became, for over a dozen years, the most powerful man in the western world and that his grandson founded the dynasty that ruled Macedon until the Roman conquest.


Shattered dream
If Polyperchon's position was precarious, at least he had Olympias on his side. Many of his eggs were in that basket now and in the summer of 317 he went to Epirus, taking Alexander IV with him. He planned to escort Olympias back to Macedon. One wonders what that first meeting was like between Olympias, the boy-king and his Bactrian mother, Rhoxane.
No doubt they dreamed of a glittering return, filled with pomp and cheering crowds. If so, the dream was rudely shattered. The only crowd that met them was an army and the only glittering was done by armour. Taking advantage of Polyperchon's absence and his lack of success as a military leader, Eurydice had her husband Philip III (a pawn throughout his miserable life) write to all the major players, announcing that, as king, he was ordering Polyperchon to resign the regency and his command of the armed forces in favour of Cassander.
Women at war
The existence of two kings had always been anomalous and potentially explosive. But now for the first time the two courts formed separate camps and there could be no doubt that only one of the kings would survive the crisis. Cassander made a flying visit to Macedon to formalise his assumption of the regency, but then returned to his campaigns in the Peloponnese where he was trying to recover the cities gained by Polyperchon the year before. He expected to do this swiftly and return, but he got held up.
Meanwhile it didn't take Polyperchon long to launch an attack on Eurydice in Macedon. He installed Olympias at the symbolic head of an army that consisted largely of troops lent by the Molossian king, Olympias' nephew Aeacides. With Cassander tied up in the south Eurydice herself came out to meet them at the head of her forces. The first ever war between women, remarked the contemporary historian, Duris of Samos, melodramatically. Be that as it may, Eurydice's bid for power came to an abrupt end when she was deserted by both officers and men who had no desire to fight the mother and son of Alexander. Besides, in four years of marriage Philip had not fathered any heirs and was presumably not likely to do so. Alexander IV was the best bet for the future of Macedon. The fall of Eurydice propelled Olympias to the zenith of her power and influence.
But if Polyperchon had expected Olympias to remain a symbolic figurehead he soon learned his mistake. She assumed that she was the queen and she went on the kind of warpath that was typical within Macedonian royal circles, though more usually followed by men. She imprisoned Eurydice and Philip III in tiny, windowless cells in Pydna on the Macedonian coast and set about a purge. While removing dozens of potential enemies among the nobility she focused particularly on Antipater's family, making it clear that she was avenging the poisoning of her son.
Hemlock, noose or sword?
The purge sped to its inevitable conclusion and Olympias took the momentous step of killing Philip and his royal wife. The fact that he was a legitimate king and had been for over six years did not deter her. It was more relevant that he was the rival to her grandson, in whose name she was now the effective ruler of Macedon. Reputedly she sent 19-year-old Eurydice hemlock, noose and sword for her to choose the method of her execution. Eurydice chose the noose but spited Olympias by hanging herself with her own girdle.
But Olympias' reign was brief. Cassander abandoned his war in the Peloponnese and marched north. He displayed tactical genius against what should have been insuperable odds. Polyperchon retreated to the Peloponnese where a few places were still loyal to him. But he never again became a major player. Olympias fled with the royal court to Pydna, where she holed up with a loyal army. She might have hoped for relief from outside, but her generals were defeated by Cassander. When her nephew, Aeacides, the Epirote king, attempted to enter Macedon from the west to relieve her he found the mountain passes held against him by Cassander's forces. As for Eumenes, though Olympias had no way of knowing it, he was about to be defeated and executed by Antigonus in distant Iran. Over the late autumn and winter of 317/316 BC Cassander besieged Olympias' forces in Pydna to the point of desertion and starvation, until she was captured trying to escape by ship. Pydna fell and Cassander gained by force the right to be the protector and guardian of young Alexander IV, the only remaining king. He ruled Macedon as regent and then king for almost 20 years, until his death in 297 BC.
Cassander did as almost all incoming Macedonian rulers had done, including Olympias the previous year: he had his former enemies assassinated. In Olympias' case he felt the need to cover himself with a cloak of legality. So he arranged for an army assembly to condemn her on the basis of a show trial. As a precaution against loyalist cold feet he had her put to death in 316 by relatives of those she had killed during her purge. She was not quite 60 years old and had been close to the centre of Macedonian affairs since, as a teenager, she had become the bride of Philip II and had borne him the future Alexander the Great.
Though the six-year-old king was too young to know it, the execution of his grandmother savagely reduced the chances of his full succession. She had been his principal and most influential champion ever since his birth. And indeed, in 309 BC, after nearly a decade of comfortable imprisonment, Cassander had Alexander IV and his mother killed secretly. The house that had ruled Macedon for over 300 years came to a brutal end.


Alexander's prophecy
There is no great moral to this tale. One of the stories that arose around Alexander's death supplied the king with some dying words. Referring to the Greek habit of holding athletic contests to commemorate a great man's death, he said: 'I foresee funeral games indeed after I'm gone.' Olympias' career after her son's death can be seen as one individual's course in those savage games. Imagine all the other courses, those of Cassander and the rest, weaving in and out of one another's, all aiming for one goal: power.
These people behaved like this because they could get away with it – until the next person came along who also felt he could get away with it. This licence was based on the traditional Macedonian style of kingship, but the violent conditions of the time escalated the Successors' notion of kingship towards absolutism. The Successors were first and foremost war leaders and needed to be able to make rapid decisions, with or without consultation.
We hear a lot about the legacy of ancient Greece, but what about Macedon? I think that absolute monarchy is a Macedonian legacy to Europe. There is a direct line from the Successors and their successors, the Hellenistic kings, to the Roman and Byzantine emperors and then to the medieval monarchs of Europe, with their assumption of the divine right of kings – and their equal savagery.


Bedroom diplomacy
A second striking feature of the period is the practice of handing daughters around as pawns in the manoeuvres of bedroom diplomacy. Women's marriages had always been arranged between their legal guardian and the interested suitor, but women were now being used to seal the fate of nations, to bring about or avoid the deaths of thousands. This political use of daughters and the Successors' frequent polygamy give us a window onto their insecurity. They aimed to start dynasties and to protect their often precarious situations. Women and warfare were their two chief instruments.
This was undoubtedly one of the main reasons that royal women gained much more power in the Hellenistic period (323-30 BC): they were useful. For a woman to have played such a role as Olympias in Classical Greece would have been unthinkable. A woman's greatest glory in the Classical period was 'to be talked about as little as possible,' wrote Thucydides. Olympias, joined in the early Hellenistic period especially by Eurydice, blazed the trail of independent political action that would be followed by many other privileged women in western history.
In the Hellenistic period we see a general improvement in the lot of women. They began to be better educated and to be allowed greater control of their own affairs. Social factors – above all the great political upheavals – were largely responsible for this. But since, in the nature of things, these were well-off, upper-class women, who were aware of their queens' behaviour, we must consider the possibility that they were influenced by the independence of their queens, or at least felt empowered by them.
Consider, finally, this fragment of Idyll 15 of Theocritus, written around 250 BC under the patronage of Ptolemy II. Two women are gossiping and getting ready to go out (this is Robert Wells' free translation): 'Now, make yourself look nice,' says Gorgo to her friend Praxinoa. 'We're going out. The show the queen's putting on is the finest yet, I've heard, The Masque of Adonis. In Ptolemy's palace too. What a place to visit!' There is a sort of cliquey all-woman feel about these lines. The queen is sponsoring a play and the women of Alexandria go and see it, as they would never have been allowed to do a hundred years earlier in Classical Athens.
That is no more than suggestive, but I like to think that Olympias acted as a kind of beacon in the dark years of the early Hellenistic period.
Further reading:
A.Brian Bosworth, The Legacy of Alexander: Politics, Warfare, and Propaganda under the Successors (Oxford University Press, 2002)
Elizabeth Carney, Olympias, Mother of Alexander the Great (Routledge, 2006)
Peter Green, From Alexander to Actium: The Historical Evolution of the Hellenistic Age (University of California Press, 1990)
Robin Waterfield, Dividing the Spoils: The War for Alexander the Great's Empire (Oxford University Press, 2011)
If you enjoyed this article, you might like these: