Afghanistan: Unfriendly Fire
The recent killing of British soldiers by their Afghan allies echoes events of the 19th century, writes Rob Johnson.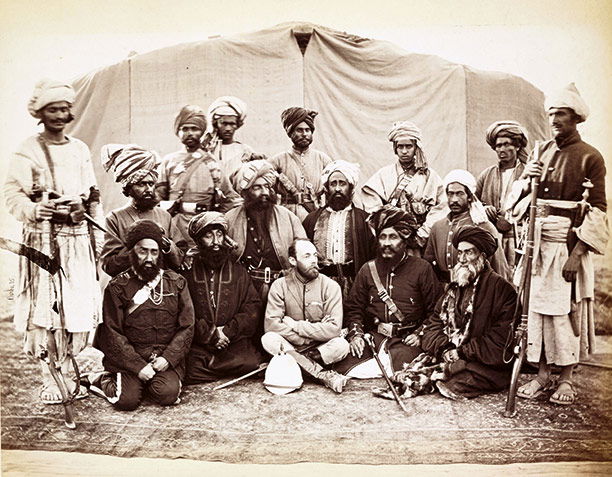 In 2011 there were 16 incidents in which NATO personnel were attacked by Afghan soldiers and police, resulting in 22 deaths. Such events create distrust just at the moment when NATO forces are preparing to change their emphasis from a combat to a training and support role. Can history provide any guidance on such a tragic issue? The British army, with its long record of colonial engagement, has confronted this dilemma before.
When the British first fought the Afghans in the war of 1838-42 Henry Bellew, an administrator who had worked with the Pashtuns (then known as Pathans), made a typical assessment: 'The most notable traits in their character are unbounded superstition, pride, cupidity and a most vengeful spirit ... They despise all other races ... They cannot deny the reputation they have acquired for faithlessness.' Despite this verdict, the British army trained some of the Afghans as auxiliary cavalry. Occasionally there were inexplicable murders of officers. Bellew attributed random attacks by individuals on British personnel as evidence of 'fanaticism'. Henry Rawlinson, the political officer stationed in Kandahar during the First Anglo-Afghan War, believed it was the inspiration of Islam. He confided to a colleague that many Afghans were angry with the British on religious grounds; 'It is indeed the rock upon which we split'.
It was not just religion that inspired disloyalty. In 1841 the amir's personal bodyguard, trained by the British, galloped out of their lines to join fighters who had ambushed a British column in the Khoord-Kabul Pass. They did so for no other reason than the chance to be tested in battle and fulfil their clannish credentials as true warriors. And, if they could engage and kill an infidel, their status was greater.
Betrayal could have serious consequences for military operations. During the Second Anglo-Afghan War (1878-1881) General Frederick Roberts, the commander of the Kurram Valley Field Force, hoped to inflict a decisive defeat on Afghan regulars. Faced with formidable defences at the Peiwar Kotal pass, Roberts determined on a night attack around the flank. However the element of surprise was lost when two of his Pashtun soldiers in the 29th Bengal Native Infantry fired warning shots to save their fellow Pashtun-Afghans. Alerted, the Afghans managed to hold up the British advance until Roberts burst through to the rear of their lines, winning a significant victory.
Muslim soldiers, it was feared, might be particularly susceptible to disloyalty when called upon to fight other Muslims. Yet usually the fear was never realised. At the Malakand Fort on July 26th, 1897 Pashtun clans made a night attack in overwhelming numbers. Repelling the initial waves, it took four days and nights to drive off a succession of assaults by several thousand fighters. At the height of the struggle Pashtun clansmen called out at night to the Muslim soldiers to kill their British officers, but the Sepoys were steadfast. They remained 'true to their salt'.
At the outbreak of the First World War, fears of murder and disloyalty again arose. Yet, despite the Ottoman Empire's declaration of a jihad against the British Empire in 1914, only a handful of Muslim soldiers deserted during the campaign against the Turkish army in Mesopotamia and these did so due to the conditions they faced rather than any religious affiliation. The majority of Muslim soldiers ignored the Turkish entreaties, even when they suffered high casualties in an effort to relieve a garrison at Kut el-Amara in 1916.
During the Soviet occupation of Afghanistan, which began in 1979, the Kremlin expected to be able to rely on their allies in the Afghan army to fight the Mujahideen; but the Soviet-trained force was plagued by desertions and occasionally the murder of Russian advisers. Entire units defected, killing their Russian officers as they fled. Many Afghan officers in the army and air force were not trusted by the Soviets or even by their own government. Soviet commanders were unable to guarantee that their Afghan comrades would not inform the Mujahideen of impending moves. To preserve security Soviet officers would only brief their Afghan subordinates about the objectives of a mission once it had commenced.
It is often asserted that the West has lost the war in Afghanistan and episodes of murder by Afghan troops or police are cited as evidence. However there appears to be no widespread infiltration and no systemic breakdown in relations between Afghan and western troops has resulted. Instead it is a case of individuals reacting to perceived slights and insults or anger at some apparent injustice. For the perpetrators, killing NATO personnel offers the chance to strike out at foreigners on the basis that they are alien and, intentionally or not, inflict damage and destruction in Afghanistan. In a society inured to war, where even rocket-propelled grenades are used as wedding pyrotechnics and where thousands have been traumatised by years of killing, violence has become normalised. Occasionally, drug abuse, exhaustion and impatience add to the cocktail of grievances.
British soldiers know that tact and a respect for local customs are vital to good relations with partnered forces. The most durable tribute to that fact is the British army's long association with the Gurkhas. Setting a brave example and enduring the toughest of conditions alongside their partners, knowing their languages, culture and aspirations and working towards shared objectives have always been the recipe of success.
If you enjoyed this article, you might like these: