Eva Braun is born
Hitler's future companion was born in Munich on February 6th 1912.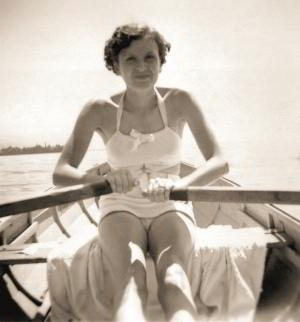 Eva Anna Paula Braun was born in Munich, the daughter of a tyrannical schoolmaster, and educated at a convent school. At 17 she took a job in Munich as assistant and occasional model to Heinrich Hoffmann, who was the Nazi Party's official photographer. At the studio she met Adolf Hitler, who was 40, and set her sights on him. He used to say, apropos of women: 'There's nothing better than training a young thing' and a relationship started. In 1932 Eva shot herself in an apparent suicide attempt, perhaps to get Hitler to take her more seriously. In 1935 she swallowed an overdose of sleeping pills, but recovered. It worked and Hitler set her up in a house in Munich.
By 1936 Eva was Hitler's hostess at his country retreat at the Berghof, high in the Bavarian Alps near Berchtesgaden, though the Führer took care to keep her a secret from the German public. Uninterested in politics, she spent her time taking long walks with her dogs, doing exercises to keep her figure, reading magazines and romantic novels and watching films. She enjoyed sunbathing in the nude, which the puritanical Hitler disapproved of, as he also disliked her smoking and using make-up.
After the failed plot on Hitler's life in 1944 Eva wrote to him: 'From the time of our first meetings, I promised myself to follow you anywhere even in death. You know that my whole life is loving you.' She proved true to her word. In 1945 she insisted on going to Berlin to join her lover and they were married in the Führerbunker in a modest civil ceremony on April 29th. At about 3.30 the following afternoon a shot was heard from the sitting room. Eva had bitten into a capsule of cyanide, as had Hitler, who then shot himself in the head. The corpses were carried up into the garden, doused with petrol and burned. Eva was 33 years old.
If you enjoyed this article, you might like these: