Geoffrey Best reflects on a lifetime collecting books and the difficulties – emotional and financial – of parting with them.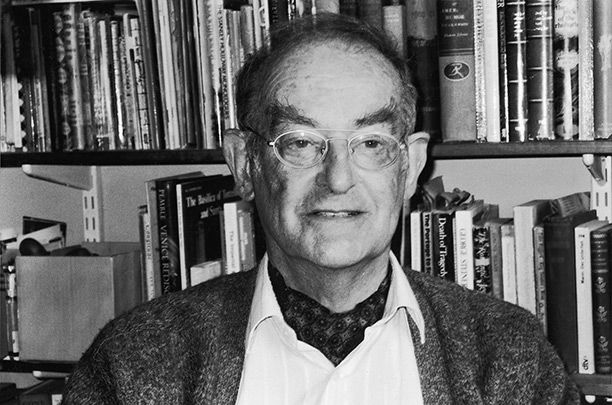 How did my lifetime of buying books (and then getting rid of them) begin? For many years I have believed that the first book I bought, with my own pocket money, was Hetty Green, the Witch of Wall Street: mysteriously attractive in a dusty, soon-to-be-blitzed bookshop in Westminster. But my recent writing of memoirs has brought a less comical recollection to the surface. Hovering spectrally over the London suburb where I was brought up, I see the ten year old boy collecting from his friend, the manager of W.H. Smith's little shop in Osterley underground station, a British government White Paper on Dachau and Buchenwald concentration camps.
I suppose I learnt of it in our daily newspaper and planned a secret purchase. It's a bit embarrassing now to contemplate the dark impulses that drove me then to such an acquisition. I must have kept it hidden at home, like pornography, and I can't recall what became of it. But there may be a redeeming chink of light in the darkness. Seven or eight years later I found myself fascinated by the ethical issues raised in the war-crimes trials; 30 years on, I abandoned the study of British history in order to devote myself to the study of (as I loosely perceived it) the ethics of war; and 40 years later, in 1980, that ambition issued in the first of my several publications in that field, Humanity in Warfare. Hetty Green, however, left no more lasting a mark than a bemused fascination with what the very rich do with their money.
Serious book-buying began when, at 15, I got into the groove of history specialisation at St Paul's school. There were bulging shelves of history books in our class-room but I wanted a library of my own – not just of history books but also what used to be called a 'gentleman's library' of the classics of our national literature. The immediate history ambition was easily satisfied. My tastes in those studious teenage months were simple and austere. I liked textbooks, particularly the Rivingtons series with marginal headings like the Bible; just hard-covered, plain prose, lightened with maps and genealogical tables. Grim volumes though they now seem, they had romantic appeal for me, offering glimpses of the learning to which I aspired and written by the sort of man I thought I might become: an Oxbridge don.
For a while it looked as if that indeed might happen. I took to Cambridge like a duck to water and was especially impressed by George Kitson Clark, at the time the king of Victorian studies. I duly got my doctorate and an assistant lectureship and launched into the research that materialised in 1964 as Temporal Pillars: Queen Anne's Bounty, the Ecclesiastical Commissioners and the Church of England, 1704-1948.
My book-buying knew no bounds. The kind of books I needed were often to be found in the second-hand bookshops that were then so numerous. Above all there was David's bookstall in Cambridge marketplace on Saturday mornings. This was my initiation into serious book collecting. It was no place for the faint-hearted. Already by 8.30am we regulars were there, rain or shine, peering and jostling as the bookseller calmly pulled his treasures out of cardboard boxes and arranged them on the flat stall. Then, what swoopings and divings, what cries of triumph and groans of frustration! I was well placed in this melée. Six-foot three and with long arms to boot, I could usually spot early and get my hands on what I coveted; and since no other regular was interested in biographies of long-dead bishops and long-superseded law books, I soon had a fine array of them. But, on the other side of my hunting, I met stiff competition. I respected especially Christopher Morris of King's College with his talent for scrum-half-like dives and grabs and the burly Professor of Anglo-Saxon, Bruce Dickins, whose skirmishings on the wings of the scrum would suddenly end in a charge to score, as it were, a successful try. Even real treasures (e.g. Hooker's Ecclesiastical Polity and a first edition Newman's Apologia) were modestly priced at David's. I don't think I ever felt unable to buy what I coveted.
By the end of the Fifties I had amassed a good collection of 19th-century British religious and cultural history, with plenty of room for it in college and at our home in Newnham Croft. That house wasn't spacious but, I thought, we would surely move into a larger one as I went up the donnish ladder. The sky was the limit. The only dampener was the Master of my college, Sir Ivor Jennings, who once said, 'All those books you buy – you do realise you have to allow two-and-sixpence each for the costs of moving and shelving, don't you?' A proficient DIY man, as none of his generation had been, I pooh-pooh'd his warning. And as for leaving lovely Cambridge, who ever thought of that?
And yet, in 1961, we did move, to the northern Athens. The books were still no problem. Our Murrayfield home was a lot larger than our last one and I quickly constructed copious shelving. Edinburgh in those days was rich in every kind of second-hand shop. Curious items surfaced in the dusty upstairs recesses of Baxendine's in South College Street. It was a pleasure to visit the gruff, kindly ex-soldier MacNaughtan in his cavernous premises just off Leith Walk. It wasn't just in Edinburgh that I was making hay. In Perth I acquired a handsome, India-paper set of the famous 1912 Encyclopaedia Britannica for about £12. And by the time we left Edinburgh I had brought together a messy-looking but unbroken run of Punch from its 1841 beginning to 1890. My collection continued on the up-and-up.
Then, about 1970, came the first of the downs. In a move that seems extraordinary to me now and seemed extraordinary to my colleagues then I felt a call, a sort of religious conversion, to take up the study of ethics and war and to start all over again as an international historian. Aware that I loved my Victorian books so much that I'd never make the break if they stayed around, I decided I had to get rid of them. (Some colleagues thought I had gone mad.) I sold my Victorian collection to the University of Massachusetts at Amherst. The rest of my British history books went to a dealer in East Lothian.
When in 1974 I moved to the swinging University of Sussex I had to re-stock with books for my new field, which soon became better defined as the modern history of the laws and customs of war. Most of the 19th-century French and German classics of military science had been translated into English. Far harder to find were old textbooks and classics of international law. They would naturally have been jettisoned by practitioners when new law was made and new customs developed. Bit by bit, however, I built up a remarkable collection and I recall two particular coups: one, in an old bookshop near the cathedral in Winchester, the other in the airless basement of a souvenir shop in, of all places, Cascais, a seaside village west of Lisbon. How on earth did those out-of-date law books get there?
The good times at Sussex didn't last. Mrs Thatcher enforced redundancies and I was one of those who had to go in 1982. My wife got a full-time job in London and we moved there. My hopes of finding a half-time faculty post, ideally at the War Studies department of King's College London, came to nothing. (In fact I was never to have a faculty post again.) An unpaid research associateship at the LSE gave me access to its great library and, even better, to the Institute of Advanced Legal Studies, but no office. Our Islington house was not spacious. Contractions began. The Britannica and Punch were first to be sacrificed: the bookseller in the narrows of Lewes High Street gave me a few pounds for the latter and the former went to a colleague for £30. Temporarily hard up, I sold my treasured 19th-century art books too, to Francis Edwards of Marylebone High Street. I remember how very hard it was to say goodbye to a lovely Doré's London and a folio-size Phil May. That was my second experience of learning to let go, and a painful one. It was now downhill all the way.
In 1988 we moved again, to our smallest house yet, in central Oxford where there was the welcome opportunity of doing some graduate teaching at St Antony's College. That final burst of activity came to its inevitable end ten years ago and now, well into my eighties and wondering how much longer I've got left, it's time to think about the last disposals. The international law books and papers went some years ago: the papers to the Human Rights and Humanitarian Law Centre at Essex, the books to colleagues and students; the Oxfam Bookshop in St Giles fattens on all the history and social science books I know in my bones I will never have time to read. That still leaves many academic books I would like to read, besides my still-intact 'gentleman's library'. But time is getting shorter, eyes weaker and the spectre looms of reduction to a single room in a 'home' of some sort before turning the corner into Cemetery Road.
Visiting a sister in such a single room recently, I've come away with the impression that, if one does want to have books with one, there won't be space for more than about 40. Choosing them for this aged historian is a variant of the 'Desert Island Discs' dilemma. I have been thinking hard about it and been surprised by my conclusions. By the time I've got in the poetry anthologies, the essential novels, the art books and photograph albums, there won't be much space left. What about history? There are five history books I'd like to squeeze in and they are an odd bunch, explicable only for the warmth of their associations and the beauties of their styles: Gibbon (Low's abridgement retains all the juicy bits), W.L. Burn's Age of Equipoise, Owen Chadwick's Victorian Miniature, Norman Lewis's Naples '44 and John Keegan's Face of Battle. 'And if you could only take one?' It would have to be Gibbon: not because I've ever had anything to do with Roman and Byzantine history but simply because the perfection of his style, his irony, scepticism and naughtiness always makes me feel brighter and better. Perhaps life in that 'home' won't be so bad after all.