As the erotic novel appears to be experiencing a renaissance Julie Peakman reflects on 18th-century appetites for pornography.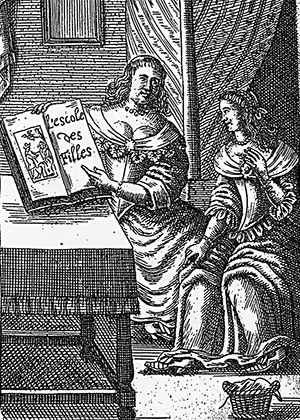 In April 1688 pornographers Joseph Streater and Benjamin Crayle were brought to trial and prosecuted for 'selling several obscene and lascivious books'. The men were charged and bound over at the Guildhall court sessions and fined 40 shillings and 20 shillings respectively.
The book they were caught selling was The School of Venus, a translation of the French pornographic work, L'Escole des Filles. Its plot involved an explicit discussion between two women – an older more sexually experienced one describing various sexual pleasures and practices to a young innocent maid. First published anonymously in 1655, it was available in London from at least 1668. Having read it thoroughly, Samuel Pepys described the book in his diary entry for February 9th, 1668 as 'a mighty lewd book, but yet not amiss for a sober man once to read over to inform himself in the villainy of the world'. He did, however, quickly burn it, fearing his wife might find it. Twenty years later the same book still had the ability to shock when it became the focus of another prosecution, that of the London based pornographer Edmund Curll.
In the early days of the printing industry much of the pornography in circulation in Britain came from France. Both pornographic engravings and texts found a market in 18th-century Britain, encouraging reprints, translations and emulations. Other erotic French classics such as L'Académie des Dames (1680) and Venus dans la Cloître (1683) could also be found in translation as Dialogue between A Married Lady and Maid and A Nun in her Smock, both proving popular. The latter was a typical example of sexual satire which involved attacks against the Church. Later English attacks against the Roman Catholic Church often came with their own jocular titles such as A Full and True Account of a Dreaded Fire that Lately Broke Out in the Pope's Breeches (1713) and The Priest Gelded: Or, Popery At The Last Gasp Shewing (1747) in which priests were depicted as wanton lechers attempting to seduce their penitents during confessions.
Female booksellers such as the Londoner Bridget Lynch were part of this wider pornographic book trade. At her trial Lynch 'own'd she had sold several of the School of Venus'. Other female vendors sold obscene engravings; Mary Torbuck was caught selling copies of a set of prints entitled A Compleat Set of Charts of the Coasts of Merryland for five shillings to a bricklayer named Edward Scudamore at St George's, Hanover Square. These prints complemented a recent book, A New Description of Merryland (1741), 'Merryland' being a fictional pornographic utopia in which the terrain is described as a woman's body.
London, the centre of book production in Britain, played a dominant part in influencing the market with an ever-increasing output of books, pamphlets, periodicals and newspapers. Much of the erotica emanated from Grub Street, a real location situated in Moorfields in London. Full of crumbling tenements, the area was the haunt of pimps, prostitutes, booksellers and publishers and a miscellany of writers – a suitable place for the development of the trade in erotica. There was no doubt that a quick profit could be made from such a business. As Mrs Catherine Brett recalled after she had sent her son to a Mrs Spavan to purchase an obscene book for 2s 6d, 'Spavan had boasted of having obtained a guinea a week by the sale of School of Venus in particular'.
Bawdy poems, cheap pamphlets and titillating sheets of verse and prose were pumped out by printers based around London Bridge and Smithfield. Such poems as Kick Him Jenny (1737) was a typical example. It told the tale of a young man, humorously called Roger, and his attempted seduction of a maid. Their concerned mistress looks on and tries to stop the action, while her husband, Sir John, calls encouragement to the youth through the keyhole:
Mad at his Wife, he cou'd have stuck her,
Aloud cry'd, _____ her, Roger, _____ her,
Kick him, as loud, the Dame went on;
_________ her, still louder, cry'd Sir John.
Ballads were sung on the streets and recited in taverns and the theatre, passed on through oral tradition. Seventy-year-old Ellen Vickers and her illiterate daughter Sarah Ogilbie were among many who were arrested in London for singing offensive ballads on the street corners. Coffee houses and taverns were also focal points for the spread of erotic tales. Frequenters of coffee houses sold and swapped erotic books, while coffee-shop owners made broadsheets and periodicals available to their customers.
It was easy to spot the bookshops that sold erotic books, as one affronted writer in The Times pointed out on August 20th, 1788. After observing a stand-up nude cut-out in the Strand, he commented:
A naked male figure at a bookseller's shop is one way of telling the public what kind of books the proprietor had to dispose of: – but, however the ingenuity may answer a private purpose, it is certainly a disgrace to public modesty, and ought to be taken down by the magistrates if this hint for its removal had not the desired effect.
Thousands of itinerant hawkers distributed ballads and chapbooks across large swathes of country, in the most obscure districts and to the humblest social sorts. Their wares consisted of all sorts of different types of increasingly sensational literature – plays and pamphlets about love, murder, earthquakes and monstrous births becoming standardised around the mid-17th century, many of them accompanied by woodcuts. The Stationers' Company, who attempted to license published material, led the attack against illicit hawkers and foreign booksellers who 'wander up and down Citty and Cuntry Selling or dispersing Books contrary to Act of Parliament'.
Cheap scandal sheets were popular in the provinces, as testified to by one gentleman, who wrote to the British Magazine in June 1749 declaring: 'I have read from time to time in small histories, comprized each in a half sheet, and sent me down into the country as they come out, remarkable accounts of murders, rapes, ghosts, blazing stars, and apparitions.' These pamphlets including tit-bits of the subjects of current gossip such as Laetitia Pilkington and Teresia Constantia Phillips, two women who had both published their racy memoirs relating their various intrigues.
In 1748 a new form of erotic writing hit the news when the first part of John Cleland's Memoirs of A Women of Pleasure was published. More commonly known as Fanny Hill, the book was a revelation in that it incorporated pornographic scenes in a novelistic form, a feat never previously undertaken in English literature. It describes the story of an innocent young maid coming to London only to be fooled into entering a brothel. Her gradual undoing involves all kinds of sexual encounters, from orgies to flagellation, which she describes in one scene: 'He directed the rod so that the sharp ends of the twigs lighted there, so sensibly, that I could not help wincing.' The authorities deemed the book obscene and it was withdrawn, although countless pirated versions were sold underground.
In the last quarter of the 18th century tighter demands on moral controls were being made when, in 1787, William Wilberforce founded the Proclamation Society. This involved 'A Proclamation for the Encouragement of Piety and Virtue, and for the preventing and punishing of Vice, Profaness, and Immorality', with the aim to suppress 'all loose and licentious Prints, Books, and Publications, dispersing Poison to the Minds of the Young and Unwary, and to punish the Publishers and Vendors thereof'. A subsequent wave of prosecutions indicated a new crackdown on publishers and sellers of obscene books. In 1788 John Morgan of Hanover Square, London was accused of 'being of a wicked and depraved mind and disposition'. His crime had been to publish 'a certain nasty filthy Bawdy and obscene Libel' called The Battle of Venus. He was convicted of 'most unlawfully wickedly and impiously devising contriving and intending to vitiate and corrupt the morals … and infect the minds of all the youths of this kingdom and to bring them into a state of wickedness lewdness debauchery and brutality'. He was sentenced to the pillory and a year in prison.
Such accusations against pornographers had become commonplace in court, their books often accompanied by explicit engravings. During 1790 James Hodges was prosecuted at the King's Bench for publishing Memoirs of a Woman of Pleasure 'exhibiting Men and Women not only in the Act of Carnal copulation in various attitudes and position but also with their private parts exposed in various other lewd and indecent attitudes and Postures'.
But who was reading this erotica? The author of The Cabinet of Venus Unlocked and Her Secrets Laid Open answered the question himself in his address to his 'amorous' readers. In the preface he revealed that the book was intended to inform men of the 'manner of generation' (sexual matters) but admitted: 'Methinks I already for-see, that the longing Chamber-maide will read this little book …'. Indeed one British seller, Mrs. Roach, 'used to open a portfolio to any boy or to any maidservant; … the portfolio contained a multitude of obscene prints; … she encourages them to look at them' – a fact which indicates that servants at least had access to erotic books.
Women gave and received pornographic books and particularly appreciated fine copies. The Irish courtesan, Mrs Leeson, received a 'beautiful edition' of Woman of Pleasure from a female friend and read similar books including Guide to Joy, Rochester's Poems and The Cabinet of Love. Mrs Errington, known of through a notorious adultery trial of 1796, was said by a witness to have shown her copy of Memoirs of a Woman of Pleasure to her friends on several occasions.
Even 'respectable' ladies read erotica. Sarah Lennox admitted she liked to read anything regarded as 'wicked', including Voltaire's Candide and the pornographic Le Canapé of which she exclaimed, 'Tis the filthiest most disagreeable book I have ever read.' When the sexually revealing Confessions of Jean-Jacques Rousseau appeared in 1781 – a book surely unsuitable for young ladies – she reverently put each volume beside his other works on her library shelves. When ordering books for herself, she used her female bookseller, Mrs Harriet Dunoyer, in the Haymarket. Such explicit erotic reading material seems to have been easily accessible for this group of women. Sarah's sister Caroline, who was married to the politician Henry Fox, 1st Baron Holland, possessed a library which held many explicit medical books, including Venette's Tableau de l'Amour Conjugal, a sex manual full of advice and amorous illustrations.
As today, while women were happy to read erotic novels and raunchy confessions, upper-class men were the main readers of more explicit pornography. Members of the notorious Hellfire Club, known as the Medmenham set, were avid readers of the stuff as seen by their well-stocked library. This secret society had been founded in the 1740s by Sir Francis Dashwood for the purpose of sexual indulgence and merriment, members meeting at the Cistercian Abbey at Medmenham which had been refurbished for this purpose. As well as such popular books as Tale of a Tub, Gulliver's Travels, Castle of Indolence and Foxe's Book of Martyrs, Horace Walpole claimed that the library also held 'scurrilous novels bound as Books of Common Prayer'. At least one of the books, Cabinet D'Amour, belonged to radical MP John Wilkes as his name and his inscription 'Medmenham Abbey' appears in the front. The book is now held at the British Library.
In 1761 Sir William Stapleton turned out his own library of erotica and forwarded it to Wilkes, drolly referring to the collection as 'pious books'. He wrote: 'If the Chapter think them worthy of the Abbey. I shall be extremely glad, hoping they will now and then occasion an extraordinary ejaculation to be sent up heavenward.'
Wilkes himself came in for public scrutiny after writing an erotic poem, 'An Essay on Woman', in 1763. It had originally been intended for private reading among his libertine friends, as a parody of Pope's 'Essay on Man'. Although only 12 copies were originally printed, the scandalous nature of its contents encouraged other spurious versions. Bishop Warburton declared it 'consisted of the most horrid insults on religion, virtue, and humanity, and the most shocking blasphemy against the Almighty', while Walpole called it 'the most blasphemous and indecent poem that ever was composed', being 'adapted to the grossest ideas, or to the most profane'.
While the more expensive leather-bound productions would have been reserved for the aristocracy and burgeoning middle classes, cheap pornography was widespread. Evidence of erotica is to be found everywhere in 18th-century Britain, from the clubs of the highest nobility to the labourers' drinking-holes and among both men and women.
Nowadays, with the development of electronic technology, erotica is more easily accessible in private than ever before and women buy and read it in ever greater numbers. Erotic novels, such as E.L. James Fifty Shades of Grey, have become so popular that women are now purchasing them at supermarkets alongside their weekly groceries.