Though Protestants sought to distance themselves from Roman Catholics on the subject, angels played a key role in Protestant culture as a means by which to understand humans and their place in the universe, explains Joad Raymond.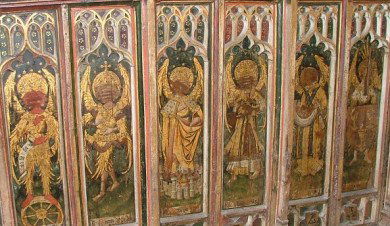 How many angels can dance on a pinhead? Even today the question is immediately recognisable – it is emblematic of the unworldliness of medieval discussions of angels and of the foolishness of scholastic theology. It was, however, a Protestant slur on Roman Catholicism coined by 17th-century Englishmen. Its earliest use is by the Protestant clergyman William Chillingworth in 1638. The question then assumed its modern form in 1659 when Henry More mocked those who 'dispute how many of them booted and spur'd may dance on a needle's point at once'.
From the 13th century onwards theologians trying to explain how to understand something beyond man's finite capacities nearly always turned to angels in their interpretations. The pinhead question was absurd to More because medieval philosophers had already decided that spirits were immaterial and therefore had no extension (i.e. physical dimension) in this world. The proposition was therefore a non-question: if angels do not materially exist, then any number could dance on a pinhead without occupying the same space. More thought the problem was a complicated one because he believed that angels were not purely immaterial but had ethereal or fiery bodies. His scepticism was in some ways representative of Protestant theologians and natural philosophers.
If we look at Britain in the 16th and 17th centuries we can see antipathy towards angels coupled with an imaginative appetite for them. Protestants distanced themselves from Roman Catholics on the subject and even mocked their views but this was not because they didn't believe in or were uninterested in angels.
Destroying angels
Catholics – and many less zealous Protestants – considered that representations of invisible, sacred beings could raise worshippers' minds to higher things and remind them of their duties. Provided they were not used in or for devotional purposes they were thus acceptable in places of worship. To this end as early as 787 the Council of Nicaea distinguished between latria (worship due to God alone) and dulia (reverence paid to lesser creatures). However, for more fiery Protestants the attempt to make the invisible world visible risked impropriety and presumption and they worried that images, even if not used directly in worship, risked distracting the worshipper from God or, worse, suggesting that God could be worshipped indirectly through his representatives. Thus images of the celestial in churches could result in idolatry.
Protestant reasoning came down to interpretation of the Ten Commandments. The first says that: 'I am the Lord thy God, thou shalt have no other Gods before me.' According to most Catholics the following verses which stipulate 'Thou shalt not make unto thee any graven image' and caution against the worship of false idols are part of this same commandment. But ancient rabbinic theology and most Protestants interpret the warning against making false images and worshipping false idols as a separate commandment and thus place greater emphasis on it. Hence, Protestants argued, images are illicit in places of worship. They added that Catholics had effectively abolished the second commandment. (Catholics made the number of commandments up to ten by distinguishing between coveting a neighbour's house and his wife.)
One of the clearest examples of the destructive drive expressed by Protestants towards angels was the handiwork of the Suffolk Puritan William Dowsing (1598-1668). He had started destroying angels in the churches of East Anglia in 1643 before being formally appointed commissioner for removing the monuments of idolatry and superstition from all the churches of the Eastern Association. During the iconoclasm of the 1530s reformers had smashed images of the sacred that were directly used in worship. Dowsing participated in a further purge in which he and others destroyed incidental and merely decorative imagery on tombs, windows and roofs.
This second phase of iconoclasm reflected a tension within Protestantism between those who felt that the Reformation simply had to dispose of the false elements of Roman Catholic theology accumulated through years of ignorance and corruption and those for whom all forms of worldliness had to be eradicated to perfect the spirit. Firmly in the latter camp, Dowsing set about eradicating images of angels in God's name. He recorded his work for posterity in a diary, the first entry in which he describes a visit to Peterhouse, Cambridge:
We pulled down two mighty great angels, with wings, and divers other angels, and the 4 Evangelists, and Peter … and about a hundred chirubims and angels, and divers superstitious letters in gold.
Creating angels
Yet this is only part of the story because British Protestants also made images of angels. Few visual depictions, it is true; instead they wrote about them. There are almost 300 references to angels in the Protestant Bible, but little about their nature as creatures. Building on the limited information offered in scripture, Protestants wrote theological treatises, sermons and scriptural commentaries dealing with the actions and movement of angels. Many, including John Donne, wrote poems using angels to explore ideas or as a frame to tell stories. The magnum opus of the dramatist Thomas Heywood was his epic poem Hierarchie of the Blessed Angels (1635), a strange compendium about angels written in nine books that correspond to the nine orders of angels. Though few angels figure on the Tudor and early Stuart stage, an interesting pair appear in the playwright William Percy's Mahomet in His Heaven (1601), a drama set in an Islamic heaven and thus in a fictional world thoroughly distanced from belief. Creation poems and heroic narratives used angels to offer a broader – cosmic – context for human actions. Lucy Hutchinson's Order and Disorder (1679) is an epic retelling the story of Genesis, probably the first poem of its kind to be written by a woman. Like her contemporary John Milton, Lucy was a Puritan, cautious about going beyond the word of scripture, yet she too describes the actions of angels, suggests when they were created and describes their hierarchies.
British Protestants wrote about angels in these varied ways because they believed that they were real, a useful medium through which to explore Heaven and God and a means of understanding humans and their place in the universe. But there was another, less cerebral dimension, to this interest. Some Protestants communicated with angels. The Elizabethan astrologer and magus John Dee (1527-1609) used ritual magic to summon angels and recorded his conversations with them. Dee was not alone, however. There was an underground network of astrologers who used ritual magic, communicated via secret manuscripts, to summon angels. One of the these was John Pordage (1607-81), rector of the parish of Bradfield in Berkshire until December 1654, when he was ejected for scandalous behaviour. Deprived of his living, Pordage published an account of the trial, in vindication of himself, while one of his prosecutors published an adversarial reply. These documents show the hostile committee hearing the case fishing around for grounds for an accusation of witchcraft, while Pordage responds by being evasive. His neighbours testify to seeing strange things – a dragon in his kitchen, the philosopher's stone, an angel dressed like Pordage and guardian angels. Stranger still, they testify to hearing these angels make noises.
Angel-summoners did not stand to benefit from publishing their activities. But though reticent during the trial itself, in his published account Pordage confessed to visions of Heaven and Hell and admitted to having conversations with angels. Unfortunately he tells us little about the content of these dialogues. However his account is typical in its drawing on traditional learning, while it also illustrates an expansion of interest in angels in the mid-17th century. It would be easy enough to dismiss Pordage as a crazy enthusiast but in his way he is as integral to Protestantism and its relationship with angels as Dowsing.
Pordage went on to found a religious community in London which after his death would become the Philadelphian Society. Intriguingly, in 1661 his son Samuel wrote an epic poem Mundorum Explicatio describing his father's voyage through the multiple universes in the company of a guardian angel – a work that, in its visionary poetics, spiritual inspiration, prophecy and claim to literal truths, anticipates Milton's Paradise Lost.
More orthodox clergy also saw that angels were part of the world in which they lived and a means of better understanding it. One example stands for many. In a 1649 commentary on Ezekiel, the London minister and Puritan William Greenhill (1597-1671), writes:
Astronomers observe, that from the centre of the earth (which is 3000 [miles] to the surface) up to the Sun is above foure millions of miles; to the Firmament, where the fixed stars are, above fourescore millions of miles, and from thence to the place of the blessed, where Saints and Angels are, more millions then from the earth to the Firmament. So that according to their account, it must be above 160. millions from heaven to earth; and this space the Angel came flying in a little time: we think a bullet out of a Musket flyes swiftly, and it doth, for it hits the bird or mark ere the report is heard, and will flye 180. miles in an houre, according to its motion. The Sunne moves swifter 1160000. miles in one hour; the fixed stars about the æquinoctiall move 42 millions of miles each houre; and yet the motion of an Angel is swifter, being a Spirit, and passing through the air without opposition; no creature in heaven or earth, moves faster than an Angel.
This is partly an intellectual experiment and partly an exercise in 'mosaic philosophy' (the attempt to deduce truths about the book of nature from the book of God). Strange as Greenhill may sound, his reflections are not that distant from parts of John Locke's Essay Concerning Human Understanding (1690):
Whether Angels and Spirits have any Analogy to this, in respect of Expansion, is beyond my comprehension: and, perhaps, for us, who have Understanding and Comprehension, suited to our own Preservation, and the ends of our own Being, but not to the reality and extent of all other Beings, 'tis near as hard to conceive any Existence, or to have an Idea of any reall Being, with a perfect Negation of all manner of Expansion; as it is, to have the Idea of any real Existence, with a perfect Negation of all manner of Duration: And therefore what Spirits have to do with Space, or how they communicate in it, we know not.
Both Greenhill and Locke were interested in what angels could tell them about the natural world. Locke's 'expansion' returns us to More and the angels-on-a-pinhead question. Locke is the hero of English empiricism but his point is that if we knew the answer to this problem concerning angels we would then know a good deal more about the universe. Unfortunately we do not, because we could only know this through revelation. But he still takes the time to ponder it and he does so repeatedly throughout the essay.
Protestants were fascinated with angels, but they attempted to distinguish themselves from Roman Catholics in ways that were not always watertight. In fact there are many continuities across the Reformation and beyond in the intellectual handling of angels. The period 1100-1750 was one throughout which angels could be considered in terms of natural philosophy (what we would now call 'science'). Angels were both real beings in an interspecies relationship and a means by which to represent knowledge. There is a continuity between Thomas Aquinas, the 13th-century theologian and philosopher who wrote the most authoritative medieval study of angels, and, say, Isaac Newton (1642-1727), who collected manuscripts about angels and who initially talked about gravity in terms of spiritual forces.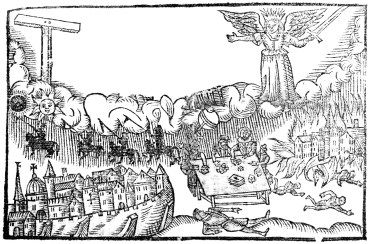 Deceiving angels
But so far this discussion has centred entirely on good angels. This is important. Fallen angels, devils or demons are easier to understand. They are sinful and in this respect more like us in their actions and motivations. (Historians have long been interested in demonology and witchcraft partly because of the social importance of the history of witch persecution and partly because devils are simply sexier.) Good angels are more complex and risky to write about. Demons could disguise themselves as angels of light but angels cannot deceive. If one claimed that an apparition was good, there were grounds for thinking one had spoken or held commerce with it and, if it proved to be a bad angel, one was therefore guilty of demonolatry or witchcraft. In some ways it was more scandalous to claim to see a good angel than to see a devil.
Yet most people believed that angels were non-corporeal spirits: so how did one see a good angel at all? And how did one speak with a being with no tongue? These questions were asked by Catholic and Protestant theologians alike. The most common answer was that an angel, either through its own power, or through the special intervention of God, could assume a body of air visible to the human eye. This body sometimes looked human, while sometimes it took on the appearance of the six-winged creature described in the book of Isaiah. Speaking was more complicated: either angels spoke directly to human minds, impressing their thoughts while moving the virtual body to mimic talking; or they spoke audibly while manipulating the virtual body; or they spoke using the organs of the virtual body to generate sound.
From the medieval period onwards these inventive solutions created concern. If an angel appeared and presented a simulacrum of speaking was it deceiving its audience? The answer was tied to complex discussions about how to find truth in the language of scripture when this was above both the capacity of language to express and of human faculties of understanding. Theologians stressed that angels reflected a form of truth that was neither allegorical nor metaphorical; that in a sense they really did look like how they appeared, but that also they should not be understood in an entirely literal way. This was known as the doctrine of accommodation and has occupied a central place in theology.
Satan is the father of lies, and fallen angels deceive. But good angels cannot deceive and this made them much more difficult to write about. If to represent an image is to risk idolatry and if to present an image of an angel is to risk misrepresentation – as well as the wrath of William Dowsing – what made it possible for a Protestant to make things up about God and angels and heaven? How could they simply fabricate stories and images of invisible, powerful, sacred beings that could not be seen or heard? Poets express reservations on this point: Lucy Hutchinson says she will limit herself to what is described in scripture and she tends to be much more cautious and reserved when describing the universe before the Fall. Thomas Heywood goes well beyond scripture but writes didactically. Each of the nine books of his poem begins with an emblem and a verse argument and concludes with extended 'Theologicall, Philosophicall, Poeticall, Historicall, Apothegmaticall, Hierogriphicall and Emblematicall Observations, touching the further illustration of the former Tractate', followed by commentary on the emblem and then verse meditations on the preceding book. He nervously supports everything he writes with extensive apparatus. His muse travels in heavy chains with a lot of baggage.
Paradise Lost
In the light of this, the chronological, geographical and emotional ambition of John Milton's Paradise Lost is extraordinary. Without apology, Milton invades the sacred unknown. He presents divine conversations (which signal that he doesn't believe in the Trinity) and an account of salvation (emphasising free will and rejecting the doctrine of predestination). Yet he does this not through didactic verse but through narrative and, crucially, through angels.
Paradise Lost is the grandest Renaissance epic, yet it focuses on a single human relationship, telling a story of love, intimacy, betrayal, heartbreak and wounded reconciliation. This story is given significance within Creation by an expansive and theologically daring machinery of angels. Angels fight, narrate history and converse with humans; they make mistakes, sin, argue and bind together the celestial narratives with the terrestrial. We learn about how angels move, how fast they move, how they speak, the nature of their bodies, when and why they fell, what they do on their days off, why they have no need to dance on pinheads, how they digest and have sex.
Milton goes far beyond what almost any of his contemporaries were prepared to do. He is typical of his time in his interest in angels and in his sense of their artistic and intellectual potential, but entirely atypical in the confidence and daring with which he writes about them. It is this which makes the poem both beautiful and theologically risky. Milton was drawing upon the long history of the doctrine of accommodation but he also believed himself to be truly inspired. He represents poetic inspiration very carefully in the poem and does so in precisely the way Protestants write about prophetic inspiration. I think Milton believed that what he was writing was in a sense true and that in turn made it permissible – even a duty – to describe the invisible, sacred world. It is this inspired imagination that makes Paradise Lost so rich and intense. It also makes Milton less like Shakespeare or John Dryden and more like the unrespectable John Pordage, an enthusiast, a radical, a visionary.
Contemporary angels
In recent years there has been a powerful resurgence of interest in angels – the 'new vampires' according to articles in the British press. This vogue dates back to the 1980s, a decade which saw books on how to speak with your guardian angel, how to heal using angels and an American Christian fiction genre involving angels. There have also been a number of films including Wim Wenders' Wings of Desire (1987), Michael (directed by Nora Ephron, 1996), Meet Joe Black (Martin Brest, 1998), Dogma (Kevin Smith, 1999) and Tony Kushner's Angels in America (1990), cleverly and deeply rooted in Jewish beliefs about angels.
Some of the fiction is rich and sophisticated. For example, Elizabeth Knox's The Vintner's Luck (1998) describes the contact between a man and an angel that visits him once a year, charting a life and a relationship through these visits. David Almond's Skellig (1998) tells of a relationship between a boy and an injured, insect-eating angel. Philip Pullman's The Amber Spyglass (2000) imagines a powerful alternative angelology in which angels are weak precisely because they do have tenuous bodies. Pullman's work is sceptically rooted in theological traditions. He develops a Gnostic heresy (which Satan espouses in Paradise Lost) that God did not create angels but merely predated them. His protagonist Lord Asriel appears to be named after the Azrael in Islamic tradition, an angel of death who separates the soul from the body. The moral vision of the Pullman's Dark Materials trilogy presents a Blakean misreading of Milton, perhaps not recognising the poet's rejection of predestination and of dualism, two things that Pullman finds troublesome in modern Christianity.
Antony Gormley's The Angel of the North (1998) is a modern masterpiece that, like early modern angels, asks us to consider what it means to be human by looking at an angel. Danielle Trussoni's bestseller Angelology elaborates upon an ancient Christian tradition which says that the Sons of God who take as wives the Daughters of Men (Genesis 6.1-4) are angels (sometimes called the Watcher Angels). According to some theologians this is the Fall of Angels, of which there is no certain account in scripture. These marriages produce nephilim (giants) and in Trussoni's novel, which exploits the market for glamorous angels, mysterious texts and interspecies sex, nephilim walk unnoticed among humans exploiting, stealing art, indulging their appetites, occasionally murdering.
Perhaps bizarrely, traditional images of angels appear in military hardware. The so-called angel decoys used in the Iraq war consist of flares fired out from US air force planes as a countermeasure to deflect heat-seeking missiles; the turbulence from the jets causes the smoke startlingly to take the form of a Christian angel. They have received favourable attention on evangelical websites.
Is this angel revival based on interests and ideas similar to those that drove Donne, Milton, Pordage, Heywood and Hutchinson? Does it speak to a continuity of individual or social needs? I think not, for reasons connected with the relationship between learning, imagination and religious belief. In the contemporary world those who write about contacting your guardian angel or angel healing are detached from the centuries-old traditions of angelology. Those who write fiction play with fragments of angelological traditions but religious belief doesn't make this difficult for them. The separation between these concerns makes angels easier – less fraught and dangerous – to think about but it also makes for a much less imaginative tradition. In the early modern period religion, even an iconoclastic Protestant religion, was productive of great art.
Milton is probably the most learned English poet, but one of the intense flavours of his poetry emerges from the encounter between learning and belief. It was the struggle to maintain a bond between faith, the world of experience and new forms of knowledge that made early modern angel writing so very rich. This struggle – and not pure freedom – gave strength to the imagination.