Richard Cust reassesses the thinking behind the biggest military blunder of the English Civil War, Charles I's decision to fight the New Model Army at Naseby in June 1645.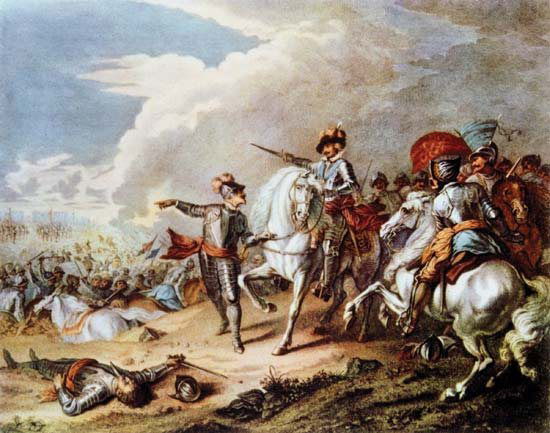 Why did Charles I decide to fight the New Model Army at the Battle of Naseby on June 14th, 1645? It was arguably the single biggest military blunder of the English Civil War. His army of between 9,000 and 10,000 men was heavily outnumbered by Fairfax's force of around 15,000 and went down to a disastrous defeat. It shattered the main field army that he had painstakingly assembled for the 1645 campaigning season; condemned him to spend the rest of the summer being chased around the Midlands and the West Country; and gave the New Model Army, which had been formed as recently as February 1645, the impetus and confidence to go on winning victories for the remainder of the civil war. Although the King himself believed he could still win the war after Naseby, with hindsight it can be seen as the turning point in his military fortunes.

Charles had high hopes coming into the campaigning season of 1645. His commander in Scotland, the Earl of Montrose, had recently won a string of victories over Covenanter opponents, forcing the Scottish army which was fighting on the Parliamentarians' side in England to start looking back over its shoulder and preparing for a retreat back to its homeland. This had done much to counteract the damage done to the king's war effort in the north by the defeat at Marston Moor in July 1644. Charles's local commanders had also begun to tap the resources of money and manpower in the southwestern and Welsh borderland counties under his control much more effectively and this provided him with strengthened garrisons and a large field army. As long as he was able to defend his headquarters at Oxford against attack by Sir Thomas Fairfax (1612-71) and the New Model Army then he held much of the strategic initiative and could strike at weak points in the parliamentarian defences.
This article is available to History Today online subscribers only. If you are a subscriber, please log in [11].
Please choose one of these options to access this article:
Call our Subscriptions department on +44 (0)20 3219 7813 for more information.
If you are logged in but still cannot access the article, please contact us [15]