Sir Walter Ralegh: Cloaked in Mystery
Mathew Lyons finds stimulation in an allusive article on Sir Walter Ralegh, first published in History Today in 1998.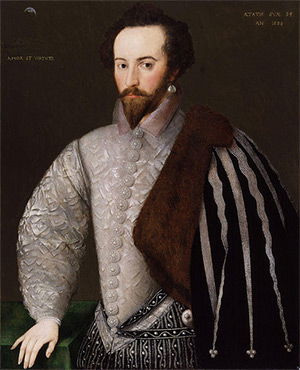 Sir Walter Ralegh did not have a good 20th century. As Robert Lawson-Peebles' excellent 1998 article illustrates, but does not quite say, the man – whose heroic persona was so well fashioned it could shine through every era since that in which he made his name – has struggled to find an identity fit for the modern age.
This may in part be due to a kind of exhaustion: the narratives with which he has been most associated shared an expansive views of England's destiny, whether in terms of its imperial ambition or, as among the parliamentarians and radicals of the 17th century, of its providential role in history. These ideas of England are not mutually exclusive; but they are not synonymous either. If such visions were Ralegh's only gift to us, then it is no surprise that his iconography should seem stale and jaded: they belong firmly in our past.
Yet Ralegh is still famous. Clive Owen played him with a moodily old-fashioned swagger opposite Cate Blanchett in Elizabeth: The Golden Age (2007). He featured extensively, albeit unflatteringly, in a Blackadder episode. And anecdotes about Ralegh's life still resonate, most notably the story of his laying a cloak on the ground to keep Elizabeth's shoes clean. Indeed Tom Stoppard and Marc Jacob were confident enough of its ubiquity to build a sequence on it in the film Shakespeare in Love (1998).
Such things are trivial, of course, but they indicate the tenacity of his purchase on our imaginations. More importantly, they also point to two facets of Ralegh that make him profoundly relevant to modern culture.
The first of these is that Ralegh was something very much like a celebrity during his lifetime. Certainly he achieved much and aspired to more, but the protean nature of his interests and ambitions were consistently overshadowed by his charisma, by the projection of an idea of himself as a star in the Elizabethan firmament, to be gazed at in envy and wonder.
The second is that Ralegh's image was something he (and later his wife Bess) laboured hard to establish and maintain. As Anna Beer demonstrated in her superb 2004 biography Bess: The Life of Lady Ralegh, Wife to Sir Walter, after her husband's death Bess proved herself to be a shrewd manipulator of the media, carefully releasing her husband's often provocative unpublished political writings to obtain maximum impact and exposure.
But she was carrying on work Ralegh had begun himself. 'In all that ever I observed in the course of worldly things,' he had written, 'I ever found that men's fortunes are oftener made by their tongues than by their virtues.' Whatever Ralegh's other talents, he had a genius for self-imaging. If proof were needed for that statement it can be found in the fact that we have accepted Ralegh's crafted versions of himself – the prophet of empire, the standard-bearer for political liberty and so on – so readily for some four centuries.
It follows from this that if we want to find a Ralegh for the 21st century we need an approach that questions what we think we know of him. The most fruitful recent insights into his life have come from those working on subjects tangential to him, through which we can glimpse a more complex, flawed and human character that belies the many myths. Anna Beer's work is certainly one such, but I would also mention Alan Nelson's Monstrous Adversary: The Life of Edward De Vere, 17th Earl of Oxford (2003). Although some of the groundwork had been laid by John Bossy and Dwight Peck, Nelson's exploration of Oxford's association with Ralegh in the late 1570s throws a brilliant light on the character and attitudes of the man before he found fame and favour.
Today, then, Ralegh's status is less certain than it has ever been. He is that rare beast: a historical figure about whom everyone knows something, but whose greatness largely eludes us. Yet that could prove a blessing: finally free from the afterglow of his celebrity we may at last be able to examine his extraordinary allure without once again falling prey to it.
If you enjoyed this article, you might like these: