The History Today App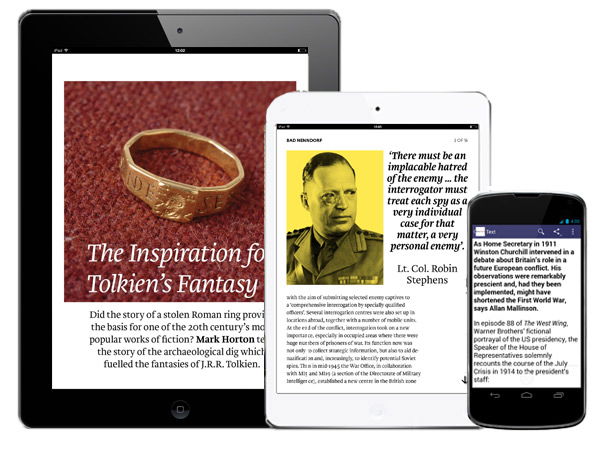 Download the History Today app and read each issue of the magazine on your iPad, iPhone, Kindle Fire, Android tablet, smartphone, PC or Mac.
Full instructions on how to download the app can be found below; you can then buy single issues, or any back issue, from within the app, or take out a six-month or annual subscription. Both subscriptions include a free trial period; if you are not satisfied with the magazine then cancel the subscription within the first month and you won't be charged (instructions for managing subscriptions on iPad can be read here; for Android, click here, and Kindle Fire, here).
How do I download the app?

iPad / iPhone: Download the app from the app store, or else search for 'History Today' on the Newsstand.
Android: Download the History Today app from the Google Play store.
Kindle Fire: If you're in Britain, download the app from Amazon UK; if you're in the United States, download it from Amazon.com.
Other countries: search for 'History Today' in the Newsstand.
PC / Mac: Register an account at Pocketmags then go to the History Today page
and you'll be able to purchase the magazine and read it on your computer.
I'm a print subscriber; do I get access to the digital edition?
Print subscribers currently get free access. To enable it, please visit this page and complete the necessary details. You will receive an email within two working days with further instructions on how to access your issues. Download the app to your device, open it up, click on the 'Settings' button / icon at top right (or by pressing the bottom left button on some Samsung phones) and enter the details supplied in the email.
Direct Debit customers: When your direct debit payment is taken please contact us or complete this form again to ensure that your access to the digital edition is not interrupted.
Here's a short video showing the digital edition in action: