The Saviour of Canada
Graeme Garrard recalls Isaac Brock, the Guernsey-born army officer still celebrated in Canada for his part in defending British North America from the United States in the War of 1812.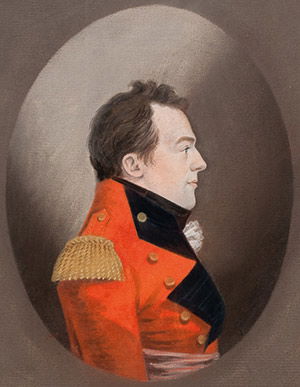 Two centuries ago, in the summer of 1812, while Britain was preoccupied fighting the armies of Napoleon in Europe, US President James Madison seized his chance to start a 'second war of independence' by invading its remaining North American colonies. So began the War of 1812 –'Mr Madison's War'. At the time Thomas Jefferson predicted that the war would be 'a mere matter of marching', which would lead to the 'final expulsion of England from the American continent'. It is not hard to see why he thought so. With just one-tenth of the population of the United States and only 6,000 regular troops, British North America seemed ripe for the picking.

Luckily for Canada, Britain had sent Lieutenant-Colonel Isaac Brock (1769-1812) there in 1802. For the next decade this energetic young officer worked tirelessly to bolster its defences against invasion from the south. For his efforts he was eventually promoted to the rank of major-general commanding British troops in Upper Canada (now Ontario). The colony was a vast, wild and thinly populated wilderness – an inviting target for the growing American republic to the south, which was nursing a host of grievances against Britain. Hungry for sailors to man its ships during the Napoleonic Wars, the Royal Navy routinely intercepted and searched US merchant vessels looking for British-born deserters who had become naturalised American citizens and could be pressed into the struggle against Napoleon. In 1807 Britain imposed trade restrictions between the US and France. And in the sprawling expanse of the Northwest Territory (Ohio, Indiana, Illinois, Michigan and Wisconsin) American settlers frequently clashed with native Americans, who became natural allies of the British keen to protect their colonies from American expansionism.
This article is available to History Today online subscribers only. If you are a subscriber, please log in.
Please choose one of these options to access this article:
Call our Subscriptions department on +44 (0)20 3219 7813 for more information.
If you are logged in but still cannot access the article, please contact us
If you enjoyed this article, you might like these: