Churchill the Historian
Winston Churchill wrote history with an eye to his eventual place in it, David Reynolds tells us. His idea of history also inspired his making of it.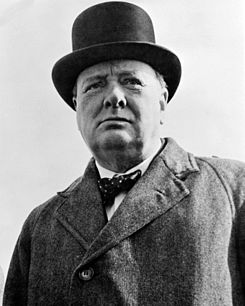 Winston Churchill's reputation rests above all on his leadership in the Second World War, often described as Britain's 'finest hour'. Yet Churchill himself coined that phrase. It serves to remind us that he not only made history but also wrote it: indeed he regarded the making and the writing as inseparable.
Politics was Churchill's life: he was a Member of Parliament almost without a break from 1900 to 1964. Yet he earned his living as an author. With no estates, business or legal practice to support his self-indulgent lifestyle, he paid the bills (or tried to) by a steady stream of articles and books. Some of his output was pretty lightweight: his articles on Great Stories Of the World Retold (1932-33) are not exactly classics of literature. On the other hand, the essays in Great Contemporaries (1937) still retain their sparkle and fascination.
Churchill's motive for writing was not merely financial. He had no faith in an afterlife, believing there was only 'black velvet', eternal sleep, and he saw reputation as the sole form of immortality. If the deeds of great men are not told and retold, then they perish. 'Words are the only things that last for ever', he wrote in 1938.
Most of Churchill's substantive writing was done with an eye to his place in history. The biography of his father, Lord Randolph Churchill (1906) and the four volumes on his martial ancestor, Marlborough, His Life and Times (1933-38) are both works of pietas and passion. By defending these earlier Churchills, he was also promoting himself. In an obituary for his cousin 'Sunny' the 9th Duke of Marlborough, Winston wrote of 'the three or four hundred families which had for three or four hundred years guided the fortunes of the nation'. Prominent among these, of course, were the Churchills. Winston saw his life as part of his family's saga, which in turn was entwined with the story of the nation: for him, writing history was, at root, an exercise in autobiography.
The most directly personal works are his two sets of six-volume war memoirs - The World Crisis (1923-31) and The Second World War (1948-54). Churchill understood the need to get his own version of events on the record early. As he liked to say when deadlocked in political controversy: 'All right, we shall leave it to history, but remember that I shall be one of the historians.'
Churchill was at pains to state that these volumes were only 'a contribution to history', written from his vantage point at the time. And, like most memoirs, they are full of vivid personal reminiscences, such as his daredevil attempt to save Antwerp in October 1914, or his epic visit to Stalin thirty years later, when they divided up the Balkans in the Percentages Agreement.
Churchill backed up these recollections with extensive quotation from documents he wrote at the time. He took boxes of papers with him on leaving office and included lengthy (though carefully edited) quotations from them in his memoirs. At a time when ordinary scholars could not hope to see government documents for fifty or sixty years, this made Churchill's memoirs an essential historical source. He also buttressed his recollections with passages of narrative drafted by research assistants or consultants. They drew on official documents, especially from the Cabinet Office's Historical section where the official histories of the two wars were being prepared. This enabled Churchill to write vivid, informed accounts " of battles such as Jutland in 1916 or of the fall of France in 1940.
Here Churchill the politician helped Churchill the historian: for much of the time that he was writing The World Crisis he was also Chancellor of the Exchequer, and civil servants co-operated in a way that they would not have done for an ordinary author. Likewise, while he was writing The Second World War he was either Leader of the Opposition or serving his second term as prime minister (1951-55), and Norman Brook, the Cabinet secretary, provided assistance far beyond his official duty as censor of national secrets. In fact, Brook himself wrote several passages in The Second World War, as paraphrases of politically sensitive papers.
The documents and the narratives added weight to Churchill's volumes: A. J. Balfour called The World Crisis 'Winston's brilliant Autobiography, disguised as a history of the universe.' At the centre of Churchill's apologia in that work was a vigorous defence of the disastrous Gallipoli campaign in 1915. He also boosted himself as the pioneer of the tank - by printing his own papers and not those of others, he gave the misleading impression that he alone was responsible for its development. And although he did not attack the 'brasshats' as vehemently as Lloyd George did in his memoirs, Churchill's strictures on Haig and other commanders strengthened the negative image of the Great War generals that has prevailed to the present day, despite the efforts of revisionist historians.
In 1940-45, Churchill was not only prime minister but also a world leader, so what he wrote about the Second World War attracted even greater attention. Volume I of his history, The Gathering Storm, included a sustained critique of appeasement, employing a battery of what we would now call counterfactuals to depict 1939 as the 'unnecessary war' that could easily have been averted by strong action of the sort Churchill had advocated at the time over the Rhineland in 1936, or the Czech crisis two years later. As early as 1940 Michael Foot and other journalists had blasted the follies of appeasement in Guilty Men, but that was a polemical essay. The Gathering Storm nailed the appeasers into a literary coffin from which they have still not escaped, with Churchill standing in quiet triumph over their graves.
Volume II related the epic of 1940. Surprisingly, this volume did not make much of Churchill's great orations, such as 'We shall fight on the beaches' or 'This was their finest hour'. These had already been widely disseminated through gramophone records and volumes of collected speeches. Churchill wanted to shift the focus away from his rhetoric in 1940. 'That was only a part, not the chief part,' he remarked in 1945. "They forget I made all the main military decisions.' The mass of minutes, directives and telegrams printed in his memoirs was intended as weighty evidence of Churchill the commander.
In the later volumes, Churchill was anxious to prove his wisdom as a grand strategist. Several American memoirs in the 1940s, from Dwight D. Eisenhower downwards, had criticized him for pressing the war in the Mediterranean (echoes of Gallipoli) instead of a frontal attack on France. Churchill landed some telling blows in his defence, showing for instance that he had advocated landing craft and artificial harbours as early as June 1940. But documents printed elsewhere in the memoirs indicated that his preferred way of 'closing the ring' on Nazi Germany was a series of landings around Europe, from Denmark to southwest France, intended to arouse the occupied populations to revolt. This was a far cry from the D-Day operation mounted in June 1944. Here Churchill the apologist was less effective, especially in the United States.
The plethora of documents in Churchill's volumes often conveyed the impression, as Norman Brook privately observed, that Our military authorities did nothing until they were told to by Mr Churchill'. This provoked a backlash in the form of Sir Arthur Bryant's two-volume selection (1957 and 1959) from the diaries of Lord Alanbrooke, Churchill's principal military adviser during the war. Alanbrooke had seen his role as that of restraining the armchair general, and Bryant's volumes were full of Alanbrooke's explosions about Churchill's tendency to 'stick his fingers into every pie before it was cooked'and his 'eagerness to do everything simultaneously instead of concentrating on one thing at a time.'
Although Bryant also quoted many of Alanbrooke's tributes to Churchill's courage and vision, the overall effect, especially in the newspaper serialization, was a very negative portrait of the Prime Minister. However, most reviewers took Churchill's side: although he goaded his generals, the disasters of 1940-42 showed they needed it. The furore over the Alanbrooke diaries discouraged other critics of Churchill from going into print, at least in his lifetime.
Churchill's six volumes, nearly two million words, stamped their mark on the historiography of the Second World War. As J.H. Plumb observed soon after Churchill's death, historians still 'move down the broad avenues which he drove through war's confusion and complexity.' But Plumb also noted that Churchill the historian was 'far more than Churchill the writer of history books,' being also 'the last great practitioner of the historic theme of England's providential destiny.' This animated his oratory in 1940, which in turn was inspired by his historical writing during the 1930s - particularly the almost completed History of the English-Speaking Peoples, which was eventually revised and published in the 1950s.
Churchill followed in the footsteps of the Whig historians. He viewed English history as the unfolding story of liberty and parliamentary government, from the Anglo-Saxon forests to Magna Carta, the break with Rome and the Civil War. Equally important, these liberties were spread across the seas to Australasia and above all to North America. For Churchill - 'half-American but all British', in the words of one obituary - the union of the English-speaking peoples had been a lifelong ideal. He saw the wartime alliance as a chance to put the 'special relationship' (another of his sound-bites) on a permanent footing. Most post-war prime ministers, not least Tony Blair, have taken an essentially Churchillian view of the United States as the bedrock of British foreign policy.
When 'black velvet'fmally descended on January 24th, 1965, his father's birthday, how successfully had Winston Churchill written himself into British history? One benchmark is the treatment he received in A. J. P. Taylor's best-selling English History, 1914-1965, published later that year. David Lloyd George, Britain's war leader in the crisis of 1917-18, had been Churchill's mentor and rival - someone he regularly measured himself against in the battle for reputation. Taylor's biographical footnote on L.G. included the summation: 'A master of improvised speech and of improvised policies. Though he was dangerous to most women, he gave his heart to few ... After leaving office, he ... propagated the "Lloyd George" raspberry.' On the previous page, at the end of his list of Churchill's offices and achievements, Taylor wrote simply: 'the saviour of his country.'
If you enjoyed this article, you might like these: