Selling a Dictatorship: Propaganda and The Peróns
Clive Foss describes the propaganda effort that the Argentinian dictators made to win the gratitude and affection of the entire population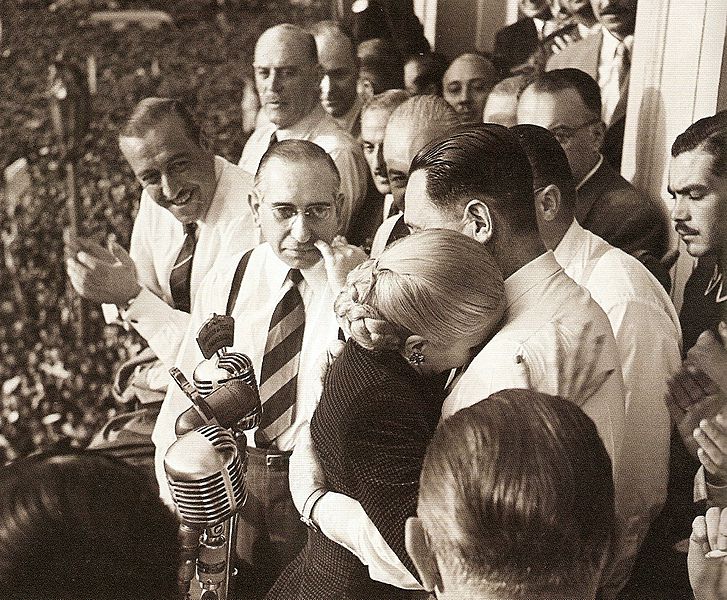 Little Cachito, eight years old, sat sadly on the corner watching the other boys play football. He couldn't join them because his big toe had broken through his worn-out shoes. Far worse, though, his mother had been confined to bed for three months and needed an operation. This left the family so poor that there would be no Christmas presents. Cachito took it like a man, even though he had been good all year and desperately wanted a football, but his little sister couldn't understand why the Three Wise Men wouldn't be bringing her a doll. As he joined some friends, they started to talk about the presents they were expecting; Cachito left without a word. On his way home, he saw some strange men sticking up a poster of a happy child with an armful of toys. He burst out crying, to the surprise of the men, who soon learned his situation. They told him not to worry: thanks to the Maria Eva Duarte de Perón Social Aid Foundation, all the children in Argentina, even the poorest, would have Christmas presents. They accompanied him home and explained to his father what he had to do. The next day, a happy Cachito told his playmates that he was going to get his football. One of them, the son of the pharmacist, rudely remarked that his father should pay his bills before buying presents; but Cachito proudly responded that the gift was coming from Evita, and led the surprised children to the poster. What seemed impossible for Cachito turned into reality, as so often happens now that justice and truth are ensuring the happiness of the Argentine people.
This article is available to History Today online subscribers only. If you are a subscriber, please log in.
Please choose one of these options to access this article:
Call our Subscriptions department on +44 (0)20 3219 7813 for more information.
If you are logged in but still cannot access the article, please contact us
If you enjoyed this article, you might like these: