Models of Kingship: Arthur in Medieval Romance
Christian king or swashbuckling hero? The immense popularity of King Arthur in medieval romance gave considerable scope for a range of images.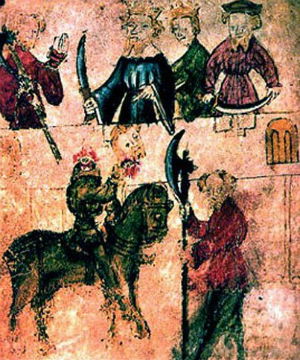 'Though ye be our king in that degree, ye are but a knight as we are, and ye are sworn unto knighthood as well as we.' Thus Sir Mador (Malory) to King Arthur. The circumstance was that Mador's cousin Sir Patrise had been poisoned by an apple handed to him in innocence by Queen Guinevere, but intended by the poisoner for Sir Gawaine; and Mador, requiring justice from Arthur, found it slow in coming. Significantly, in the French source, La Mort le Roi Artu, Arthur at first entertains the idea that Guinevere may be guilty, but neither Malory nor the poet of the SMA, both Englishmen, so tarnish the image of England's mythical hero king. As a super-knight among knights, but nevertheless himself 'but a knight', he should appear doubly just: he should not only set in motion the formal processes of the law, but also be motivated by an inward feeling for natural justice.
This article is available to History Today online subscribers only. If you are a subscriber, please log in.
Please choose one of these options to access this article:
Call our Subscriptions department on +44 (0)20 3219 7813 for more information.
If you are logged in but still cannot access the article, please contact us
If you enjoyed this article, you might like these: