Fragments that Remain: Lancastrian Losses at Towton
Palm Sunday, which this year falls late, on April 17th, marks the 550th anniversary of the Battle of Towton, also known as Palmesundayfield. When I began to research illustrations for George Goodwin's article 'This Bitter Field' published in our May issue, I immediately encountered a familiar problem: there are no known contemporary pictorial representations of the battle at which so many died. There are of course manuscript paintings of hand-to-hand combat from the period, one of which we used on the cover. Photographs of both the battlefield and of skeletons discovered in a mass grave near the site a few years ago are available though.
Tens of thousands perished, mostly Lancastrians, including Lord Welles and the Earl of Northumberland. A trip to the National Portrait Gallery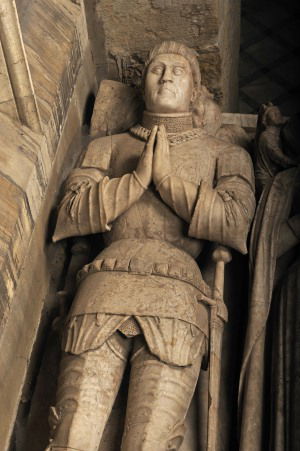 Archive showed the Yorkists to be relatively easily illustrated, but a balanced view required images of the Lancastrians too. On the off-chance, I searched for 'Towton' in the British Museum database and eureka! A gold signet ring found on the battlefield is held by the Department of Prehistory and Europe. The ring has traditionally been associated with Henry Percy, 3rd Earl of Northumberland, the lion being the family crest of the Percy family. Henry Percy died in the battle and the ring was missing for many years, but resurfaced in Paris in the late 19th century.
A London Library book on Towton (by A.W. Boardman) shows an illustration of Lionel, Lord Welles' alabaster tomb at St Oswald's church, Methley, 9 miles away from the battlefield. This interested me as the effigy is in armour, presumably looking exactly as he did during the battle. He is wearing a neutral chain collar denoting his allegiance to the House of Lancaster. The story goes that Welles' body was brought back to Methley in a sack to prevent it being mutilated by his enemies.
I was referred to a professional photographer in Yorkshire called Roger Scruton, who was able to drive over to Methley pretty quickly. Most parish churches are kept locked and one clergyman looks after several, so a time had to be arranged for St Oswald's to be opened specially. The monument was hard to access, set against the chapel wall and abutting the effigy of Welles' wife. Roger and the vicar constructed a way for him to photograph Lord Welles from above – tricky but effective.
Image:
Lord Welles' tomb (Roger Scruton)
A new DVD about the history of the battle entitled The Battle of Towton 1461 by producer Roger Keech was recently released on DVD.