In the June issue of History Today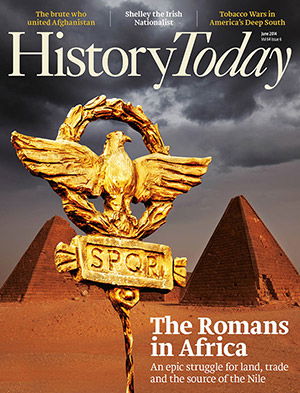 In the cover story for this month's edition, Raoul McLaughlin tells the story of the Kingdom of Meroe, the ancient African realm that went to war with the Rome of Augustus and Nero.
Also in this issue:
William Funk goes to America's Deep South to seek the truth about the Dark Patch Tobacco War of 1904 and the phenomenon of the Night Riders;


Barbara Butcher describes the grim case of Amelia Dyer, who in 1896 was hanged for the killing of children charged to her care
Ian Mortimer argues that academic history is shutting itself off from a serious public;
As the West withdraws from Afghanistan, Bijan Omrani reminds us of the 1880 withdrawal by the British from Kabul, which opened the door to tyranny and bloodshed;
Suzannah Lipscomb argues that when we pass judgement on historical figures we need to take account of the morality and mores of the age in which they lived;
Eleanor Fitzsimmons looks at the role played by the poet Percy Bysshe Shelley during the turbulent fight for Irish freedom in the early 1800s;
Chris Skidmore considers the Battle of Bosworth;
and Dean White examines the history behind the Rwandan genocide of 20 years ago and recalls its terrifying course.
The June issue is in shops from May 22nd. You can order it from our website or take out a subscription.
Alternatively, the digital edition for June is available to download from May 16th via the History Today app. New subscribers to the digital edition can get a 30-day risk free trial.