Georgians Revealed
Hannah Greig reviews an exhibition at the British Library.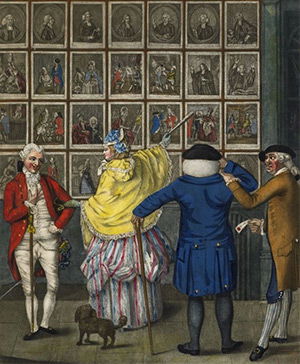 'Eclipse' was a Georgian sporting hero, the Usain Bolt of 18th-century horse racing. The son of Marske and Spilletta, he won his first race in 1769. In the following decade the stallion thundered to so many victories that eventually no one would put a horse up against him and Eclipse was retired to stud while still in his prime. He proved a success there, too: most thoroughbreds racing today are his descendants. After his death a drawing of Eclipse's 'exact proportions' was included in the Elements of the Veterinary Art (1797). Opened at the relevant page this book might not seem a star exhibit of the British Library's new exhibition, Georgians Revealed: Life, Style and the Making of Modern Britain. Nestled in a section exploring popular sports, many will miss it; Jane Austen's glasses and writing desk, on show elsewhere, would seem the more obvious treasures. Yet there is something compelling about mighty Eclipse that captures the essence of the exhibition. He was the product of a specific culture of commerce, leisure and celebrity and his legacy lives on today.
2014 is the 300th anniversary of the accession of George I and the start of the Georgian era. However it is not the monarchy that this exhibition suggests represented this age. Surrounding the entrance, a mass of extracts from 18th-century ephemera reminds us that print and not just princes defined these times. In 1695 the Licensing Act (which had controlled the amount and content of what could be printed) lapsed and, as a result, print culture boomed. The British Library's exhibition is dominated by the printed word and image, displayed in its myriad of 18th-century forms: from dance manuals to road maps and advertisements.
Much of this seems very familiar and this is precisely the point the exhibition makes. Just like us, the Georgians had their own celebrity culture. Loveable rogues such as Jack Sheppard (who escaped from Newgate prison so often that crowds visited his cell before his eventual execution) became household names. Actresses Dorothy Jordan and Sarah Siddons were the stars of the stage, while the Duchess of Kingston and courtesan Fanny Murray became a focus for public scandal and titillation.
Just like us, the Georgians liked to go out. New public entertainments, including pleasure gardens, assembly rooms, theatres and concerts, catered to an expanding market that encompassed not only a leisured elite but a professional middle class with money and time to spend on pleasure. Spa towns and seaside resorts provided holiday destinations. Circuses and panto- mimes offered light relief and museums and galleries brought art and culture to the public.
Just like us, the Georgians were an acquisitive society, enjoying fashion and shopping and keeping up with the latest trends. Streets and arcades glittered with luxuries imported from abroad, alongside innovative products by Wedgwood, Chippendale and Doulton. They also liked visiting posh piles at the weekends and kitting out their own homes with fancy wallpaper and modish goods.
The exhibition draws on long-standing interpretations of the century, using its paper works to display the 'polite and commercial', 'public' and 'leisured' society so convincingly sketched in the scholarship of Paul Langford, John Brewer and the late Jack Plumb. Inevitably there are omissions: politics barely gets a mention and there is little room for riots or revolution in cabinets dedicated to minuets and masquerades. Instead, commercial culture is represented through fashion plates and trade cards and gives little hint of associations with slavery, warfare or violence. However the accompanying book provides the wider context, not least through an engaging introductory essay by Amanda Goodrich. 'This was not', Goodrich reminds us, 'a period of unadulterated progress … democracy and equality of any sort were a long way off.'
The display is aimed at the public rather than the specialist and its content – particularly the links drawn between Georgian Britain and the present day – may come as a surprise. Arguably, the exhibition's success lies less in its narrative of how the Georgians made modern Britain and more in its showcasing of the British Library's world class collections and its eloquent demonstration of the era's explosive and multi-faceted print culture.
Georgians Revealed: Life, Style, and the Making of Modern Britain is at the British Library until March 11th, 2014. The accompanying book by Moira Goff and others is published by British Library Publications.