December Issue Out Now for Tablets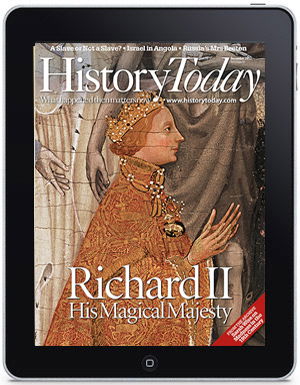 A week ahead of the print magazine's release, the December issue of History Today is out now for iPad, Kindle Fire and Android tablets.
After taking on board feedback from users, we've redesigned the digital edition from this month onwards, and it is now easier to read the text without having to zoom into the page. Click on the image to the right to see a few screenshots of the redesign.
In this issue:
Jonathan Hughes examines the magical world of the ill-fated Richard II;
Julie Peakman looks at the 18th century's inexhaustible appetite for erotic literature;
Helen Szamuely looks at the life and work of Yelena Molokhovets, Russia's answer to Mrs Beeton;
Adam Rovner investigates the attempt to forge a Jewish homeland in Angola;
and Derek Wilson looks at the rehabilitation of Thomas Cromwell in light of Hilary Mantel's award-winning books.
Also included in the digital edition is an audio interview with Helen Szamuely.
Download the app for your device:
Print subscribers also receive the app for free; find out more.