The Gin Lane Gazette: An Illustrated Georgian England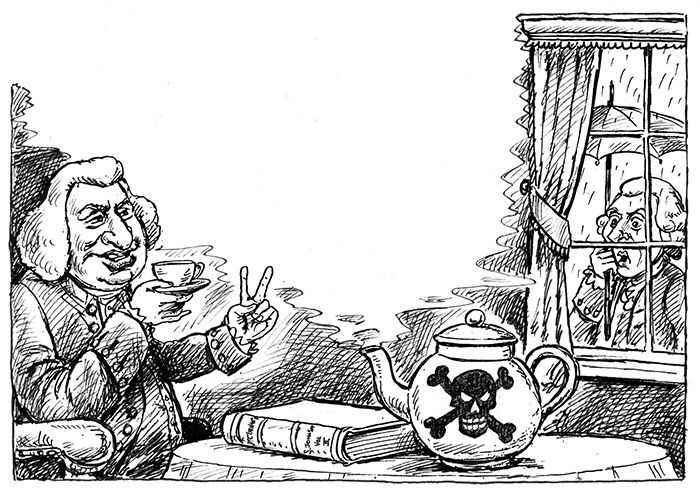 Click on the image above to see a gallery of Georgian cartoons. Below, the man behind them, Adrian Teal, talks us through his latest project: The Gin Lane Gazette.
The Reverend Henry Bate was a newspaper editor with a difference. Known as the 'Fighting Parson', due to his love of duelling and amateur pugilism, he founded the Morning Herald in 1780 after he fell out with the partners at his previous newspaper, the Morning Post, and fought a duel with one of its proprietors. The dust-up that made his name as a man not to be trifled with was known as The Vauxhall Affray, in which he defended the honour of his future sister-in-law from a gang of fashionable bullies in Vauxhall Gardens, and gave their bodyguard – a professional prize-fighter – a beating so terrible that he left with his face 'a perfect jelly'.
Bate took the world of the Georgian press by storm, and makes Rebecca Brooks look like Bonnie Langford. His newspaper dripped with scandal, gossip, coarse humour, and caustic, actionable opinions, and he was sentenced to twelve months for libelling the Duke of Richmond. Samuel Johnson once said of him:
I will not allow this man to have merit; no, Sir, what he has is rather the contrary. I will, indeed, allow him courage, and on this account we so far give him credit.
Always dreaming up marketing opportunities, Bate once had forty men in gaudy uniforms distributing handbills in Piccadilly. Today's tabloid editors are being censured for their questionable practices, and rightly so, but Bate knocks them all into a cocked hat. The 1700s saw a huge explosion of newspapers and topical caricatures, and the Beau Monde relished gossip, intrigue, and scurrilous comment as much as we do today, if not more. Men like Bate, and Britain's finest ever topical caricaturist James Gillray – who was once described as 'a caterpillar on the leaf of reputation' - both created and fed this appetite. The parallels with today's celebrity-obsessed media are startlingly and pleasingly obvious, especially to a national-cartoonist-turned-author writing a book about the period.
My current project is The Gin Lane Gazette: an exuberant, bawdy, journalistic compendium of highlights from a fictional 18th-century newspaper dealing with entirely true stories from this age of scandal and bad behaviour: a kind of Georgian tabloid, if you like. Most of the elements of modern newspapers were put in place during the 1700s, which is why I have included gossip columns, sports reports, book reviews, advertisements, and a 'courtesan of the month' feature without stretching authenticity too far.
In another pleasing parallel, the book will be published with Unbound via the 18th-century method of subscription, which it pleases us in the 21st century to call 'crowd-funding'. One of the Reverend Bate's favourite Georgian 'It' girls was the actress and demi-mondaine Mary 'Perdita' Robinson, and numberless column inches were devoted to her affairs with men of rank and fortune, including the Prince of Wales. In later life, as her health failed her, she developed a talent for writing, and sold novels and volumes of poetry by subscription to readerships of around 600 people. Plus ça change…
The Gin Lane Gazette is released November 6th. You can pre-order it here.