The Two Bolshie Bs
Which of the two of London mayor Boris Johnson and 19th-century MP Lord Charles Beresford would be most offended if likened to the other?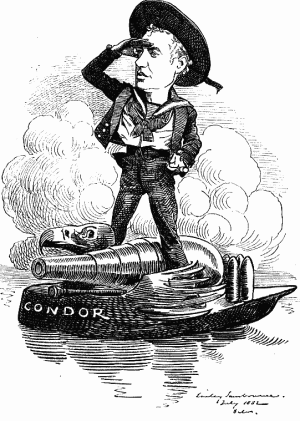 The two men have much in common. Both are undoubtedly 'posh' and profoundly aware of their natural superiority. They were born knowing that they had a right to lead. Both are wealthy while being generous towards charities. Yet, whatever their sources of wealth, both are essentially self-made men. Johnson's success in journalism launched his political career. Beresford, as a lowly naval lieutenant had the cheek to get himself elected to Parliament in 1874, and so launched his public career.
The Tory Party was the obvious home for both Johnson and Beresford, but neither man conformed to type. They longed to be on the front bench but were too independent and undisciplined to follow the party line. In Parliament neither made a significant impact although they were both prolific speakers. Beresford with his 100 speeches a year out did Johnson at his rate of 75. Although Beresford was principally in politics to pursue his naval interests, he shared with Johnson a capacity to talk on a bewildering range of arcane subjects.
But despite these similarities, Johnson would almost certainly be offended at the suggestion that he resembled Beresford in the latter's baser modes. In his fifties the admiral became so jealous of his rival, Sir John Fisher, that he ran a vendetta to unseat him. This he achieved in 1909, but the reward that he expected – to become First Sea Lord and Admiral of the Fleet – never came. In his bitterness Beresford sought revenge in spiteful attacks on Asquith, Churchill, Reginald McKenna and many others.
On the other hand, Beresford would not like the suggestion that he shared some of Johnson's characteristics. His sense of dignity and his own importance would have prohibited his allowing his sexual or financial affairs to be a matter for public discussion As to appearing on game shows … what a thought!
Had they met, Beresford might have challenged Johnson to a duel for calling Portsmouth 'one of the most depressed towns in Southern England'. For Beresford no city better represented all that was great about a sea-base imperial power.
There's no doubt that, on the evidence to date, Beresford was the more notorious. But Boris is yet young. He has plenty of time to catch up with Beresford's reputation for mean behaviour, senseless vendettas and pointless disputes.