The Launch of History Today's first eBooks
We are pleased to announce that the first two of a planned range of eBooks from History Today are now available on the Amazon store.
Ideal for Kindle owners, the eBooks are also available for other devices, such as iPhone, iPad, Android, Windows Phone and even your desktop PC; simply download the appropriate Kindle App.
The first two titles are: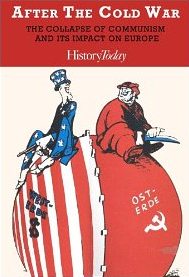 After The Cold War
Twenty years after the fall of the Berlin Wall brought the end of Communism and the abrupt cessation of the Cold War, this short but insightful book considers the impact on Russia and its former satellite states in the two decades since, and the wider changes wrought across Europe by the demise of the Soviet Union.
- Buy from: Amazon UK | Amazon US | Amazon FR | Amazon DE
---
A Portrait Of Britain
2,000 years in the life of a small island. This comprehensive and authoritative book takes a broad look at British history over the past two millennia, stretching from AD1 to the dawn of the 20th century, and taking in the Roman invasions, the Norman Yoke, the Black Death, the Tudors and the rise and fall of the British Empire.
- Buy from: Amazon UK | Amazon US | Amazon FR | Amazon DE
This is our first foray into e-publishing, and we welcome any comments, criticisms or suggestions. We are planning to launch further eBooks later in the year and into 2012.