First Look: The V&A's Photographs Gallery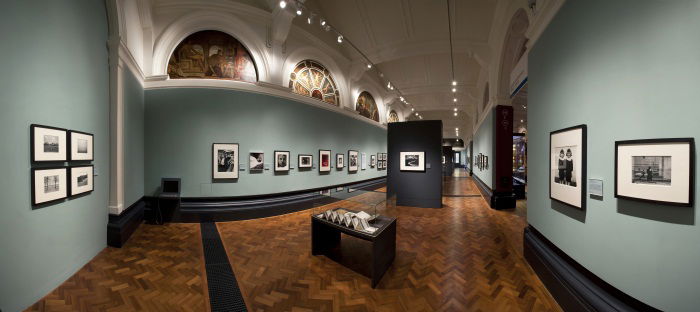 This is a welcome, and perhaps overdue, addition to the permanent galleries at London's Victoria and Albert Museum. The new Photographs Gallery opened to the public on October 24th. It will showcase, for eighteen months at a time, highlights from the museum's national collection of the art of photography, from its invention to the 1960s. The Victoria and Albert was the first museum in the world to collect the new medium back in 1856, and first also to exhibit examples two years later.
Over eighty works are featured in the inaugural display. The earliest (and the oldest in the collection) is a shadowy daguerreotype of London in 1839 by M. De Ste Croix; the most recent a black and white photograph of New Orleans taken by Lee Friedlander in 1968. Click on the image at the top of this page to see a slideshow of photographs from the gallery.
Many of these photographs are familiar milestones in the development of photography, and include various experiments along the way. The earlier part of the display includes Robert Howlett's 1857 print of Isambard Kingdom Brunel against the massive chains of the Great Eastern, Julia Margaret Cameron's portraits, Eadwaerd Muybridge's movement sequences and Francis Frith's travel photographs. The twentieth-century prints reflect a more international movement in keeping with globalisation and modernism, such as Cartier Bresson's decisive moments, Irving Penn's fashion shots and Diane Arbus's portraits.
The new gallery is situated on the first floor in a room formerly used for study, which has been restored to its original state. Contemporary photography will continue to be displayed in the existing photographs gallery.