Dickens' former home for sale
Bleak House, the former home of Charles Dickens in Broadstairs, Kent, is for sale through Chesterton Humberts. The six-bedroom house arranged over four floors is on the market for £2,000,000.
Bleak House was the holiday home of Charles Dickens and his family between 1837 and 1859. It is where he completed David Copperfield, in 1851, and the house still features Dickens' original desk and study on the extreme right on the house overlooking the sea. The mahogany staircase in the house and some fireplaces are also believed to be original.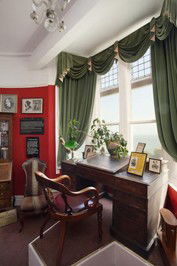 The house was built in the early 19th century, around 1801, and was first known as Fort House. It is thought to have been the home of the Fort Captain during the Napoleonic wars and was also used as an observatory station by the North Cliff Battery.
The house was renamed Bleak House many years after the publication of David Copperfield. The house was re-fronted and extended in 1901 and today is Grade II listed.
Further information and images of the property are available on the website of Chesterton Humberts.
In Dickens and His Readers from our 1987 archive, Philip Collins shows how Dickens' writing reflects his marvellous rapport with a cross-section of Victorian society, but also an integration of populism with a concern for the 'raising up of those that are down'.